FBI Ordered to Resume Review of Cases that May be Tainted by Two Decades of Flawed Forensics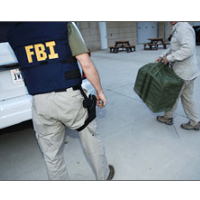 Agents deliver materials to an FBI lab for testing (photo: Kevin Wolf/AFP/Getty Images)
The Federal Bureau of Investigation (FBI) is back at reviewing more than 2,500 cases of forensics evidence that may have been tainted at the agency's crime lab over a period of 20 years.
FBI officials halted their review of 2,600 criminal convictions last August. At that point, they had reexamined only 160 cases over two years—which revealed nearly every one of them included flawed forensic testimony from experts.
The mess at the FBI crime lab was revealed by The Washington Post two years ago. The newspaper found hundreds of people may have been wrongly convicted as a result of forensic scientists misidentifying the wrong types of hair found at crime scenes.
But even before that, a review in the 1990s found problems at the FBI lab, much to the dismay of the Department of Justice's Inspector General (IG), which blasted the agency for halting its review last summer.
The resumption of the investigation was triggered by the IG's response to what it found to be an unacceptable investigation and delays on the part of the FBI. Among other things, the IG discovered that three defendants had been executed and a fourth died on death row during the five years it took the FBI to reinvestigate 60 convictions that may have been tainted by improper conduct on the part of federal agents.
"I don't know whether history is repeating itself, but clearly the [latest] report doesn't give anyone a sense of confidence that the work of the examiners whose conduct was first publicly questioned in 1997 was reviewed as diligently and promptly as it needed to be," Michael R. Bromwich, the IG from 1994 to 1999 and now a partner at the Goodwin Procter law firm, told the Post.
-Noel Brinkerhoff
To Learn More:
Federal Review Stalled after Finding Forensic Errors by FBI Lab Unit Spanned Two Decades (by Spencer Hsu, Washington Post)
FBI Forensic Lab Misconduct Could Affect 2,600 Convictions, 45 Death Row Cases (RT)
Report: 'Irreversible Harm' When FBI Didn't Reveal Flawed Lab Work in Death-Row Cases (by Spencer Hsu, Washington Post)
FBI Forensic Analysts under Investigation for Falsifying Tests (by Noel Brinkerhoff, AllGov)
FBI Still Sorting Out 2,500 Cases That Used Flawed Bullet Evidence (by Noel Brinkerhoff, AllGov)