8,800 Transgender Americans are on Active Duty in U.S. Military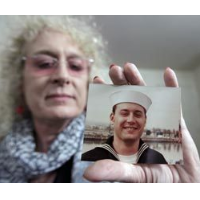 Autumn Sandeen holds photo of herself as a Navy seaman in 1980 (photo: Gregory Bull, AP)
Three years since the Obama administration lifted the ban on homosexuals serving openly in the U.S. military, there are still thousands of Americans who live closeted lives while serving their country.
Today, gays, lesbians and bisexuals can join and serve in the armed services without restriction. But the same freedom does not exist for transgender people, who number in the thousands in the military but must keep the truth about themselves a secret. Transgender people generally do not self-identify with the gender with which they were born.
It is estimated there are about 8,800 transgender people on active duty currently, according to a report (pdf) from The Williams Institute, a think tank based at UCLA School of Law.
Another 6,700 are serving in the National Guard or reserves, making a total of 15,500 transgender individuals helping to protect the United States.
None of them, though, can let on about who they really are. Under its medical policies, the Department of Defense currently does not allow anyone who has had a sex change to enlist in the Army, Navy, Air Force, Marine Corps, Coast Guard, National Guard or reserves.
Such individuals, along with cross-dressers, are considered to have "psychosexual disorders" that makes them unfit to serve. Anyone discovered to be transgender faces forced discharge for medical reasons.
The report's conclusions are based on data compiled from the National Transgender Discrimination Survey, which was conducted by the National Gay and Lesbian Task Force and the National Center for Transgender Equality.
-Noel Brinkerhoff
To Learn More:
Transgender Military Service in the United States (by Gary J. Gates and Jody L. Herman, Williams Institute) (pdf)
Medicare to Cover Sex Change Surgery (by Steve Straehley, AllGov)
Transgender Veteran Wins Discrimination Lawsuit against Library of Congress (by Vivian Kim, AllGov)