Non-White Prisoners are more Profitable for Private Prisons
Tuesday, February 11, 2014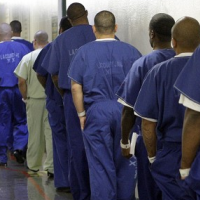 (AP photo)
Private prison companies know exactly what kind of inmate they want to make their operations profitable: minorities.
A study (pdf) out of UC Berkeley shows people of color—who make up the majority of the U.S. prison population—are even more overrepresented in private correctional facilities, compared to state-run prisons.
This is not by accident. Companies like The GEO Group and Corrections Corporation of America (CCA), two of the industry's leaders, want black and Hispanic prisoners because they tend to be younger than white inmates, due to the passage of mandatory sentencing laws in the 1980s that targeted drug offenders (who tended to be minorities).
Younger prisoners are cheaper to care for than older ones, due to medical costs, which is why private prisons want more minorities.
"Based on historical sentencing patterns, if you are a prisoner today, and you are over 50 years old, there is a greater likelihood that you are white," Christopher Petrella, a doctoral candidate at UC Berkeley and the study's author, told BillMoyers.com. "If you are under 50 years old — particularly if you're closer to 30 years old — you're more likely to be a person of color."
The American Civil Liberties Union issued a report two years ago that revealed it costs $34,135 annually to house a non-geriatric prisoner, compared with $68,270 for a prisoner age 50 or older.
"I came to find out that through explicit and implicit exemptions written into contracts between these private prison management companies and state departments of correction, many of these privates — namely GEO and CCA, the two largest private, for-profit prison companies — write exemptions for certain types of prisoners into their contracts," Petrella said. "And, as you can guess, the prisoners they like to house are low-cost prisoners… Those prisoners tend to be younger, and they tend to be much healthier."
Of the 32 states that contract with private prison operators, 30 of them showed that state-run correctional facilities had smaller minorities-to-whites ratios in their populations than private prisons.
In four states that Petrella examined (California, Georgia, Oklahoma and Texas), the share of blacks and Hispanics in private prison population was at least ten percentage points greater than in state-run facilities.
"One of the reasons I think the study's important," Petrella told BillMoyers.com, "is that it continues to show how laws — and even contractual stipulations — that are, on the surface, race-neutral, continue to have a disproportionate and negative impact on communities of color."
-Noel Brinkerhoff
To Learn More:
Higher Profits Explain Why There Are More People of Color in Private Prisons (by Joshua Holland, Moyers & Company)
6 Companies That Make Their Money Ensnaring People In Our Prison System (by Aaron Cantú, AlterNet)
The Color of Corporate Corrections, Part II: Contractual Exemptions and the Overrepresentation of People of Color in Private Prisons (by Christopher, Radical Criminology) (pdf)
African-American Inmates Sue Private Prison Company for Endangering Them by Housing Them with Hispanic Gangs (by Noel Brinkerhoff, AllGov)
Prison Sentences for Black Men Are 20% Longer Than Those for White Men for Same Crimes (by Noel Brinkerhoff, AllGov)