Prison Sentences for Black Men Are 20% Longer Than Those for White Men for Same Crimes
Wednesday, February 20, 2013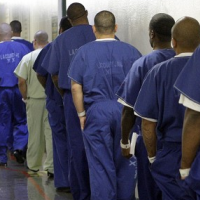 (AP Photo)
Federal judges have handed down longer prison sentences for black men than for white men—for the same or similar crimes committed— since 2005, when a court ruling gave judges more discretion in deciding jail times for convicted criminals.
The U.S. Sentencing Commission revealed in a new report that the sentences of black men were on average 19.5% longer than the sentences of white men from December 2007 to September 2011.
The commission did not mention racism as a factor in sentencing decisions, but did write that judges "make sentencing decisions based on many legitimate considerations that are not or cannot be measured."
To address the disparity, commissioners recommended that federal judges give sentencing guidelines more weight. They also said appeals courts should more carefully examine sentences that fall beyond the guidelines.
Eight years ago, the U.S. Supreme Court struck down a 1984 law requiring federal judges to impose sentences within the range of the federal sentencing guidelines, which are set by the commission.
Critics of the new report say that the commission focused on the tail end of the criminal justice process, to the exclusion of earlier stages when bias can occur, such as at the time of arrest or plea being entered. Considering such data could have altered the study's results, they claim.
-Noel Brinkerhoff
To Learn More:
Racial Gap in Men's Sentencing (by Joe Palazzolo, Wall Street Journal)