African-American Inmates Sue Private Prison Company for Endangering Them by Housing Them with Hispanic Gangs
Tuesday, October 15, 2013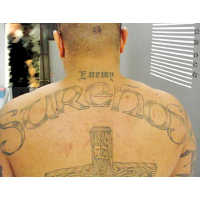 photo: ICE)
Four California inmates sent to Oklahoma as part of the state's effort to ease prison overcrowding are suing the nation's largest private prison company for allegedly endangering their lives.
The plaintiffs, all African-Americans, claim Corrections Corporation of America (CCA) put them at risk by housing them and other black inmates in the same wing with Hispanic gang members.
All 2,400 prisoners at the North Fork Correctional Facility in Western Oklahoma are from California, which shipped them there in 2007 after then-Governor Arnold Schwarzenegger (R) signed an executive order designed to alleviate overcrowding in the state's prison system.
But in October 2011, a riot broke out at North Fork as Hispanic prisoners attacked black inmates. CCA reported at the time that nearly 50 inmates were injured, and 16 required hospitalization at nearby medical centers.
The lawsuit alleges that CCA and its former warden, Fred Figueroa, didn't train guards properly and left some positions understaffed, which led to the "severe and permanent physical and mental injuries" suffered by the four plaintiffs: Michael Bolton, Jamar Henry, Kevin Hicks and Jabaar Walton.
"Defendants...were aware that by concentrating a large number of Hispanics associated with the Sureños prison gang at North Fork, they were putting plaintiffs, African-American inmates, at a significant risk of harm," the lawsuit states, according to The Oklahoman.
-Noel Brinkerhoff
To Learn More:
Two Years After Oklahoma Riot, Inmates File Suit Against Private Prison Company (by Andrew Knittle, The Oklahoman)
Beckham County Blues: Sayre Prison Riot Shines Light on Private Prison Industry (OKC.net)