Almost Half of Syria's 100,000 Rebel Fighters are Hardline Islamists
Tuesday, September 17, 2013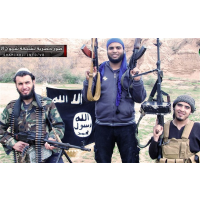 Islamist Rebels on Iraq-Syria Border (AP Photo)
Getting involved in the Syrian civil war means more than taking a side against the regime of Bashar al-Assad. It also means aiding a fractured rebellion, nearly half of which consists of hardline Islamists whose interests may not coincide with those of the United States.
A new study by IHS Jane's, which specializes in military reports, estimates Syria's armed opposition totals around 100,000 fighters. These armed rebels may be split up into as many as a thousand small groups, according to the report.
More concerning, however, is the ideology of about half of this force.
IHS Jane's says the rebels include 10,000 jihadists with ties to al-Qaeda, as well as another 30,000 to 35,000 hardliners who see eye-to-eye with the jihadists, although they are focused on toppling Assad and not on a global struggle against the West.
"The insurgency is now dominated by groups which have at least an Islamist viewpoint on the conflict," Charles Lister, author of the study, wrote. "The idea that it is mostly secular groups leading the opposition is just not borne out."
Lister adds there are at least 30,000 "moderates" belonging to groups that have an Islamic character, leaving only a minority of rebels linked to secular or purely nationalist groups.
While rebel fighters share the goal of overthrowing Syria's authoritarian dictator, jihadist groups want also to transform Syria into a conservative Islamic state.
With this last point in mind, it's no wonder that Western policymakers have had a difficult time deciding whether to help the Syrian rebels. If weaponry is provided to them, analysts say, who's to say the same firepower won't eventually be used against the U.S. or its allies, as happened when President Ronald Reagan armed the Taliban in Afghanistan?
But not helping the rebels also could work against Western interests.
"If the West looks as though it is not interested in removing Assad, moderate Islamists are also likely to be pushed further towards extremists," Lister said, according to The Telegraph.
Moderates in the rebellion also have to worry about those fighting alongside them.
The Telegraph reported that al-Qaeda has assassinated several commanders of the more moderate Free Syrian Army in recent weeks in an attempt to gain control over the northern Latakia province.
-Noel Brinkerhoff
To Learn More:
Syria: Nearly Half Rebel Fighters Are Jihadists or Hardline Islamists, Says IHS Jane's Report (by Ben Farmer and Ruth Sherlock, The Telegraph)
A Terrorism Expert's Twitter Rant about How We Get Syrian Rebels All Wrong (by Max Fisher, Washington Post)
Senators Authorizing Syria Attack Received 83% More Defense Money than Those Opposed (by Noel Brinkerhoff, AllGov)
President Assad May Have Used Chemical Weapon against Syrian People, Says Secret U.S. State Department Cable; White House Demurs (by Noel Brinkerhoff, AllGov)