President Assad May Have Used Chemical Weapon against Syrian People, Says Secret U.S. State Department Cable; White House Demurs
Thursday, January 17, 2013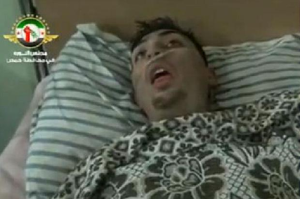 Alleged victim of Homs chemical weapon attack. (photo: YouTube clip)
The government of Syria reportedly used chemical weapons on its own people last month, an act that could have provoked a tough response from the United States, according to the Obama administration's policy.
But to date the White House has not decided whether to become more involved in the Syrian crisis.
The chemical weapon attack occurred on December 23 in the city of Homs, according to a secret State Department cable from Scott Frederic Kilner, the U.S. consul general in Istanbul, Turkey.
Kilner came to his conclusion after interviewing Syrian activists, doctors, and defectors, including Mustafa al-Sheikh, a high-level defector who once was a major general in Assad's army and key official in the Syrian military's weapons of mass destruction program, according to Foreign Policy.
The website also said that Syria's use of chemical weapons would cross a "red line" that President Barack Obama established last summer, when he warned the utilization of poison gas "would change my calculus" on how to deal with the Assad regime.
The White House refused to comment on the cable, but discounted the possibility that poison gas was used by Assad. They did not, however, rule out that some kind of a chemical agent was employed, nor have they altered its policy towards Syria.
-Noel Brinkerhoff
To Learn More:
Exclusive: Secret State Department Cable: Chemical Weapons Used in Syria (by Josh Rogin, Foreign Policy)
State Dept.: We Do Not Believe Chemical Weapons Used in Syria (by Josh Rogin, Foreign Policy)
Consulate Supported Claim of Syria Gas Attack, Report Says (by Michael R. Gordon, New York Times)
Video of Attack Victim (YouTube)
Arab-Language Report on the Attack (pdf)
Syrian Dictatorship Uses U.S. Technology to Spy on Internet Users (by Noel Brinkerhoff, AllGov)
U.S. Has Secret Pact to Aid Syrian Rebels (by Noel Brinkerhoff, AllGov)
Is the Fighting in Syria a Behind-the-Scenes Return to Cold War? (by Noel Brinkerhoff, AllGov)