As Pentagon Officials Whine about Budget Cuts, How about Canceling some of These Projects?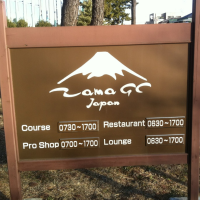 Camp Zama Golf Course (photo: Jim Turner, Breakfast at Epiphany's)
Even as Pentagon officials complain that budget cuts threaten to hollow out its ranks and degrade its military capabilities, they have been able to find money for new sun rooms, a museum, golf course netting and other "questionable projects," according to a Senate Armed Services Committee report released last week.
The report focuses on the military's $10 billion-a-year overseas construction efforts, about 70% of which is spent in just three countries with a large U.S. troop presence: Japan, South Korea, and Germany. According to the report, much of this spending occurs with little oversight, sometimes in violation of military regulations and Pentagon promises to Congress.
The specific boondoggles include addition of sun rooms to housing for senior officers in Stuttgart, Germany; a $10 million museum in South Korea praising the U.S. Army; and $2.9 million worth of netting around an Army golf course at Camp Zama, Japan.
Perhaps more disturbing than the amounts involved is the surreptitious manner in which the Pentagon spent the money and kept Congress and the public in the dark. The U.S. is withdrawing or relocating troops in all three countries, and as the military relinquishes various facilities to the host countries, they are expected to pay the U.S. for the returned properties. However, a little-known rule lets local American commanders waive these payments in return for work of an equivalent value performed by the host country—without approval from Congress or even the Pentagon itself. Each of the most questionable expenses—the sun rooms in Germany, the pro-Army museum in South Korea and the golf netting in Japan—was financed this way.
"When the Pentagon and the entire federal government face enormous fiscal challenges, the questionable projects and lack of oversight identified in this review are simply unacceptable," said Sen. Carl Levin (D-Michigan), the committee chairman.
"We are aware of the report, and we take it very seriously," said Air Force Maj. Robert Firman, a Department of Defense spokesman. "The DOD strives to be a good steward of taxpayer resources and we look forward to discussing it with Congress in the near future."
-Matt Bewig
To Learn More:
Lawmakers Criticize Pentagon Spending for Golf Nets, Museums and Sun Rooms (by R. Jeffrey Smith, Center for Public Integrity)
Senate Armed Services Committee Report Finds Lack of Oversight, Rising U.S. Costs at Overseas Bases (Senate Armed Services Committee) (pdf)
Inquiry Into U.S. Costs and Allied Contributions to Support the U.S. Military Presence Overseas (Senate Armed Services Committee) (pdf)
Pentagon Accused of Planning Most Damaging Budget Cuts as Means of Getting More Funding (by Noel Brinkerhoff, AllGov)
Supposedly "Drastic" Defense Cuts would Merely Return Spending to 2006 Level (by Noel Brinkerhoff, AllGov)
Pentagon Actually Gained $50 Billion from Spending Cuts Deal (by Noel Brinkerhoff and David Wallechinsky, AllGov)