Pentagon Actually Gained $50 Billion from Spending Cuts Deal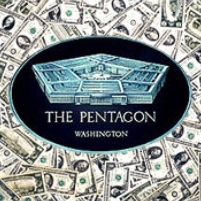 (graphic: BRussellstribunal.org)
To hear Pentagon officials tell the story, the recent agreement to deal with the federal debt by cutting military spending is a potentially catastrophic threat to U.S. security. But if you read between the lines, it doesn't look so bad after all.
Since the Obama administration and Congress hammered out a last-minute compromise to keep Uncle Sam from defaulting on his obligations, the story about the
Department of Defense
has centered on the $350 billion reduction in its budget over the next dozen years or so.
However, back in April President Barack Obama had proposed cutting the Defense budget by $400 billion, so the Pentagon actually gained at least $50 billion in the deal.
"This is a good deal for defense when you probe under the numbers," Lawrence Korb, a defense expert at the
Center for American Progress
, told McClatchy Newspapers. "It's better than what the Defense Department was expecting."
Korb points out that the defense budget could be chopped by $100 billion annually over the next decade and the Defense Department would still have more to spend than it did during the height of the Cold War (with inflation factored in).
Even worse for liberals who want defense spending cut is this tidbit published by The Washington Post: The Obama administration has publicly said the debt-ceiling deal will cut $350 billion in defense spending over 10 years, "but those same officials acknowledge that theirs is just an estimate and that mandated defense cuts aren't actually in the bill."
-Noel Brinkerhoff, David Wallechinsky