Hospitals Make Bigger Profit when Surgeries Go Badly than When they Go Smoothly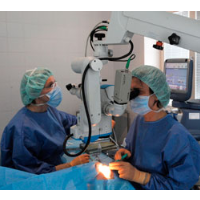 (AP Photo)
It pays more to harm than heal patients in hospitals, a new study has found.
When hospitals make mistakes, causing patients to stay longer, insurers wind up paying for extended stays and extra care—which means hospitals have a financial disincentive to do the right thing.
"We found clear evidence that reducing harm and improving quality is perversely penalized in our current health care system," Sunil Eappen, lead author and chief medical officer of Massachusetts Eye and Ear Infirmary, told the Harvard School of Public Health.
The study was conducted by the Boston Consulting Group, Harvard's schools of medicine and public health, and Texas Health Resources, a large nonprofit hospital system that provided the records of 34,256 surgery patients for analysis.
More than 1,800 of these patients had one or more complications that could have been prevented, like blood clots, pneumonia or infected incisions.
The findings of the research included the following:
Patients with private insurance who had a complication provided hospitals with a 330% higher profit margin than those without a complication.
Medicare patients with a complication produced a 190% higher margin.
The authors said reforming the payment system to stop rewarding poor care may help to bring down surgical complication rates—otherwise, hospitals will have little incentive to improve.
-Noel Brinkerhoff
To Learn More:
Hospitals Profit From Surgical Errors, Study Finds (by Denise Grady, New York Times)
Patients with Surgical Complications Provide Greater Hospital Profit-Margins (Harvard School of Public Health)
Disturbing Report Finds U.S. Hospitals Profit More When Surgery Goes Wrong (by Agence France-Presse)
Relationship Between Occurrence of Surgical Complications and Hospital Finances (by Sunil Eappen, MD; Bennett H. Lane, MS; Barry Rosenberg, MD, MBA; Stuart A. Lipsitz, ScD; David Sadoff, BA; Dave Matheson, JD, MBA; William R. Berry, MD, MPA, MPH; Mark Lester, MD, MBA; Atul A. Gawande, MD, MPH; Journal of the American Medical Association) (abstract only)
Independent Surgical Centers Accused of Bleeding Millions from Insurance Companies (by Ken Broder, AllGov)
10 Hospitals Fined for Sometimes-Deadly Medical Errors (by Ken Broder, AllGov California)
5 VA Hospitals Banned from Performing Most Surgeries (by Noel Brinkerhoff and David Wallechinsky, AllGov)