Independent Surgical Centers Accused of Bleeding Millions from Insurance Companies
Monday, February 04, 2013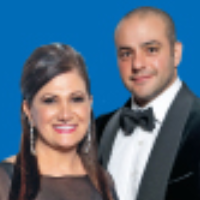 Julia Hashemieh and Bobby Sarnevesht (photo: Boris Berenberg)
There is no shortage of explanations about why health care costs in the United States are higher than anywhere else on the planet except the Marshall Islands, but one contributing factor might be questionable billing by outpatient surgery centers like Advanced Surgical Partners in Costa Mesa, California.
The center charged teacher Lynne Nielsen $87,500 for a 20-minute procedure on her knee that normally runs around $3,000, according to a story in The Los Angeles Times. But Nielsen had insurance through her employer, the Long Beach Unified School District, and Blue Shield of California agreed to pay the entire bill.
After Nielsen complained to the state attorney general's office about the cost, the price was negotiated lower. But critics complain that insurance companies routinely pay these exorbitant claims and use the payouts as evidence that they need to charge higher insurance premiums to individual and business consumers.
There are nearly as many surgical centers in the country (5,260) as hospitals (5,724), a five-fold increase since 1988.
Bay Area Surgical Management (BASM), which operates five centers, was sued twice last year by insurance companies for a total of $59 million. The Saratoga, California-based company, founded by mother and son Julia Hashemieh and Bobby Sarnevesht, was accused of submitting inflated and fraudulent bills. United Healthcare Services sued for $39 million in June 2012 after Aetna Insurance sued for $20 million. The company denied the allegations.
Among its examples of overbilling, United Healthcare alleged that the company charged $69,700 for arthroscopic knee surgery, about nine times the going rate. In its defense, the company said it was charging less than other surgical centers.
The San Jose Mercury News reported similar cases of BASM overbilling, including $5,760 for a colonoscopy, instead of the going rate of $2,555, and $13,662 for a circumcision instead of the average of $3,619 for an in-network job.
Cigna Health and Life Insurance filed a federal lawsuit against BASM in January, alleging $66 million in overbilling. The complaint said the company recruited doctors to invest in the surgical centers and promised them an 800% return, fueled by the requirement that doctors make referrals to the centers. The lawsuit characterized the exchange as a kickback. The suit also maintained that patients were not informed that the centers were outside the Cigna network and that their doctors owned them.
Hashemieh and Sarnevesht see themselves as Robin Hoods, taking from the rich insurance companies and giving to the doctors (with BASM taking fees of 15-25%).
While insurance companies are suing doctors and surgical centers for overbilling, doctors and surgical centers are suing insurance companies for denying patients access to their facilities. A class-action lawsuit over denials of medical coverage, filed in July 2012 against Aetna by California and Los Angeles County medical associations and 60 lawyers, was characterized by Aetna as payback for complaining about surgical center billing practices.
Although lawsuits between insurance companies, governments, medical providers and consumers will no doubt continue even as the Affordable Care Act (popularly known as Obamacare) rolls out and changes the health care landscape, a winner is already clearly in view: lawyers.
-Ken Broder
To Learn More:
Small Surgeries, Huge Markups (by Chad Terhune, Los Angeles Times)
Cigna Sues Calif. Surgical Group Over $66M Fraud (by Ciaran McEvoy, Law 360) (pdf)
60 doctors Sue Aetna Insurance for "Routinely Denying" Patients Medical Coverage (by Stephanie O'Neill, KPCC)
South Bay Surgery Facilities Sued for $39 Million by Second Insurer (by Lisa M. Krieger, San Jose Mercury News)
South Bay Surgery Clinics Overbilled, Insurance Giant Claims (by Lisa M. Krieger and Beth Mole, San Jose Mercury News)