Revolving Door at SEC is in a Whirl as Hundreds Hired by Industry they Regulated
Wednesday, February 13, 2013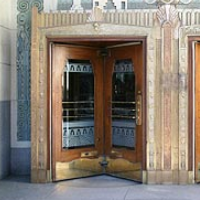 Charged with regulating Wall Street, the Securities and Exchange Commission (SEC) has become a launching pad for former agency employees—by the hundreds—to become part of the industry they once oversaw.
A new report from the watchdog group Project on Government Oversight (POGO) says that more than 400 ex-SEC staffers were working for the industry between 2001-2010.
The study also found numerous other concerns with the "revolving door" between the SEC and financial firms. These included agency workers trying to help corporations influence agency regulations, defending companies suspected of breaking the law, and helping them avoid tougher enforcement actions.
Perhaps the most high-profile concern in this arena is President Obama's nomination of Mary Jo White to become the new SEC chief. During her most recent job at the firm of Debevoise & Plimpton, White's clients included JPMorgan Chase, General Electric, Verizon Communications, former Bank of America chief executive Kenneth Lewis, and Rajat Gupta, the former Goldman Sachs board member convicted of insider trading.
"The revolving door is moving faster than ever," Senator Charles Grassley (R-Iowa) said after reading POGO's findings. "The SEC has to fix this problem once and for all. That involves more disclosure, more meaningful restrictions, and top-to-bottom application of the rules without waivers that make any restrictions meaningless."
-Noel Brinkerhoff, Danny Biederman
To Learn More:
SEC's Revolving Door Blurs Line Between Regulator and Industry (by Andre Francisco, Project on Government Oversight)
The SEC's Revolving Door (Project on Government Oversight)
Watchdog's Report Raises Concerns about SEC's Revolving Door (Dina ElBoghdady, Washington Post)
Revolving Door Still Open for Lobbyists (AllGov)
SEC Destroyed Files of Thousands of Investigations (by Noel Brinkerhoff, AllGov)