Federal Prison Population Multiplies 10 Times in 30 Years
Monday, December 17, 2012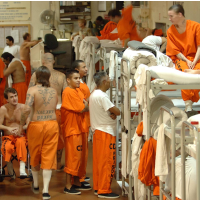 (photo: California CDCR)
Driven by an ever-escalating "war on drugs," the number of federal prisoners incarcerated in the United States has increased by ten times in just 30 years—27 times faster than the rate of population growth. According to a report released by the Urban Institute, the federal prison population stands at about 218,000 and is adding nearly 10,000 prisoners every year. As a result, the Federal Bureau of Prisons (BOP) is operating at 39% above capacity, creating dangerous overcrowding for guards and prisoners.
Noting that drug offenders make up about half of the BOP population, the report points out that they are mostly non-violent offenders, as half of them fall into the lowest criminal history category. It also concludes that time served in prison, especially for drug offenses, has been the largest determinant of the growth in the BOP population.
But this is by no means exclusively or even mainly a federal problem.
According to statistics compiled by The Sentencing Project, a nonprofit dedicated to prison reform, the total number of people in jails and prisons—both federal and state—for violating drug laws soared from 41,000 in 1980 to 507,000 by 2010. At the same time, the number of incarcerated persons more than quadrupled, from 502,886 to 2,266,832 inmates. The United States leads the world in per capita incarceration at 743 per 100,000, ahead of Rwanda (c595) and Russia (568).
-Matt Bewig
To Learn More:
The Growth & Increasing Cost of the Federal Prison System: Drivers and Potential Solutions (by Nancy La Vigne and Julie Samuels, Urban Institute) (pdf)
Federal Prisons Face Overcrowding (by Noel Brinkerhoff, AllGov)
People Imprisoned in U.S. for Drug Offenses Skyrockets from 41,000 to 507,000 in 30 Years (by Noel Brinkerhoff, AllGov)