U.S. Government Okays Huge For-Profit Immigrant Detention Center
Wednesday, September 10, 2014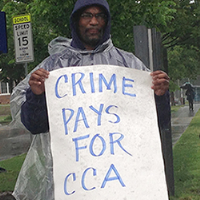 (photo: Wikipedia)
Federal immigration officials are planning to open a mammoth detention center in Texas to hold illegal immigrant families, much to the dismay of advocates who point to a similar effort that raised considerable controversy.
The South Texas Family Detention Center, which will be located 70 miles outside San Antonio, would be operated by the nation's largest private prison company, Corrections Corporation of America (CCA).
Immigration and Customs Enforcement (ICE), which is preparing to hire CCA to run the 2,400-bed facility, previously partnered with the operator on the T. Don Hutto Family Residential Center outside Austin.
That operation ended in 2009 following "numerous allegations of human rights abuses, accounts of children suffering psychological trauma and a federal lawsuit filed by the ACLU and the University of Texas Law School Immigration Clinic," Forrest Wilder of the Texas Observer reported.
Bob Libal, executive director of Grassroots Leadership, a group that opposes for-profit prisons, told the Observer: "Given the shameful history of family detention at Hutto, it's beyond troubling that ICE would turn back to Corrections Corporation of America to operate what would be by far the nation's largest family detention center."
"While little kids and their families will suffer in this remote private prison, far away from legal or social services, this multi-billion-dollar private prison company stands to make enormous profits," Libal added.
ICE is in negotiations with the commercial real estate firm Koontz McCombs to lease a 50-acre stretch of land for the planned center. That property is part of Sendero Ranch, which currently serves as a housing community for oilfield workers. Koontz McCombs, which owns the land, is tied to Red McCombs, a San Antonio business mogul.
The land that ICE hopes to lease currently stands as a fenced campus capable of housing 680 people. Additional buildings would be constructed to handle the 2,400 detainees.
The decision to open the new center is part of the administration's response to the flood of children and families from Central America into the U.S.
-Noel Brinkerhoff
To Learn More:
Feds Planning Massive Family Detention Center in South Texas (by Forrest Wilder, Texas Observer)
Immigrant Detention Bed Quotas Cost Taxpayers, Profit Private Prison Companies (by Noel Brinkerhoff, AllGov)
Private Prisons Punish States for not Having Enough Prisoners (by Matt Bewig, AllGov)