Three-Quarters of Small Wind Turbines Produced in U.S. are Sold to other Countries
Wednesday, August 20, 2014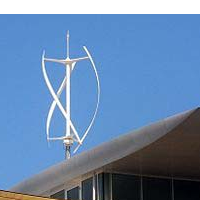 (photo: Anders Sandberg, Wikipedia)
Producers of small wind turbines in the United States aren't selling as many of their units to American operators, so they've shifted their sales efforts to foreign buyers.
The move comes largely because Congress did not renew a $13 billion subsidy, the Wind Production Tax Credit (WPTC), designed to help the wind industry in the U.S.
A new report from the U.S. Department of Energy (DOE) shows that 76% of the small wind turbines, those rated at 100 kilowatts or less, made in the United States were sold to other countries in 2013, up from 57% two years ago. More than 50 nations now use U.S.-made turbines, with Italy, Germany, China, and Mexico among those leading the way in imports, according to the DOE's 2013 Distributed Wind Market Report.
American manufacturers found it difficult to boost sales domestically without the WPTC, which expired on January 1. The credit helped the industry compete with fossil fuels and other energy sources, such as solar.
The authors of the report said the importers they interviewed "indicated that they spent their efforts in more promising international markets…as it was hard to justify sales efforts in the United States without consistent policy support at the federal, state, and utility levels."
The lack of government support also made it tougher for wind producers to compete at home with the solar industry, which has made strides reducing the cost of its products, Emily Atkin noted at Think Progress.
-Noel Brinkerhoff
To Learn More:
2013 Distributed Wind Market Report (U.S. Department of Energy) (pdf)
More U.S.-Made Wind Turbines Are Being Sold Overseas As Congress Fails To Support Wind Power (by Emily Atkin, Think Progress)
Electricity from Wind Energy Cheaper to Produce than Nuclear, Coal or Solar (by Noel Brinkerhoff, AllGov)
Energy Distributions Can't Keep up with Wind Energy Production (by Matt Bewig, AllGov)