Electricity from Wind Energy Cheaper to Produce than Nuclear, Coal or Solar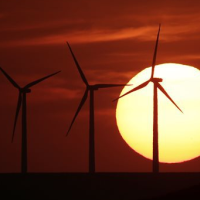 Wind turbines in Kansas (photo: Charlie Riedel, AP)
A new study shows energy produced from wind farms is cheaper than almost all other sources of electricity, giving clean-energy advocates another argument for reviving an expired tax credit.
Researchers in New York and California have concluded that wind-derived electrical power costs an average of 8.7 cents per kilowatt-hour (kWh). That's cheaper than nuclear power (10.8 cents) and coal (12.3 cents), as well as two alternative energy sources: solar (14.4 cents) and biomass (11.1 cents).
Only natural gas is cheaper than wind, averaging 6.6 cents per kWh. The researchers noted that gas is less expensive due to the abundance being captured as a result of hydraulic fracturing. But fracking also pollutes underground water supplies.
Congress last year allowed the Production Tax Credit (PTC), which supports investments in wind generation, to expire after being around for 20 years. Supporters of the PTC have insisted the subsidy is needed to continue the promotion of wind farms. They also point to tax breaks still being provided to the oil and gas industry.
Opponents of the PTC won the day at the end of 2013 with their questionable argument that clean energy policies are too costly to justify.
-Noel Brinkerhoff
To Learn More:
Visualizing the Production Tax Credit for Wind Energy (by Jason Dedricka, Kenneth L. Kraemerb, Greg Lindenc) (pdf)
Energy Distributions Can't Keep up with Wind Energy Production (by Matt Bewig, AllGov)
Australian Study Shows Wind Energy Now Cheaper than Coal or Gas (by Noel Brinkerhoff, AllGov)