Pentagon Spends Half-Billion on Military Aircraft for Afghanistan, Then Sells Planes for Scrap for $32,000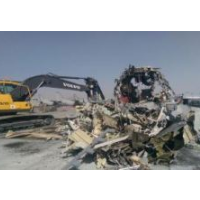 Military plane scrapped in Kabul (photo: SIGAR)
U.S. taxpayers paid nearly a half-billion dollars for Italian-built airplanes for the Afghan Air Force that were found to be unsuitable for use there, then scrapped most of them, recovering pennies on the dollar.
The Pentagon bought 20 G222 transport planes for $486 million. The program was terminated in March 2013 because the planes could not be kept operational due to maintenance problems, performance issues and a lack of spare parts. Sixteen of the planes were scrapped at Kabul International Airport and the shredded metal was sold to an Afghan company for 6 cents a pound. Four of the planes remain intact at Ramstein Air Base in Germany.
Lt. Gen. Charles Davis told Bloomberg News in 2013 that the G222 was unsuitable for Afghanistan's hot, dusty environment. "Just about everything you can think of was wrong for it other than the airplane was built for the size of cargo and mission they needed," he said. "Other than that, it didn't really meet any of the requirements."
But was scrapping the expensive planes the only choice the Pentagon had? "The Department of Defense recently completed disposal of aircraft located in Kabul, Afghanistan, to minimize impact on drawdown of U.S. forces in Afghanistan," Pentagon spokesman Maj. Brad Avots told U.S. News and World Report in an email.
However, James Sopko, Special Inspector General for Afghanistan Reconstruction (SIGAR) wrote (pdf) Air Force Secretary Deborah James: "I am concerned that the officials responsible for planning and executing the scrapping of the planes may not have considered other possible alternatives in order to salvage taxpayer dollars."
Meanwhile, Sopko hasn't forgotten about the four remaining planes. "I request, therefore, that your office provide me with sufficient advance notice of any change in the status of the four remaining G222s," he wrote (pdf) Defense Secretary Chuck Hagel.
-Steve Straehley
To Learn More:
U.S. Taxpayers Paid $486 Million for Afghan Air Fleet. DOD Sold It for Scrap. (by Josh Hicks, Washington Post)
U.S.-Funded Planes for Afghanistan Sold for Scrap (by Paul D. Shinkman, U.S. News and World Report)
SIGAR Letter to Secretary of Air Force (pdf)
SIGAR Letter to Secretary of Defense (pdf)
Planes Parked in Weeds in Kabul After $486 Million Spent (by Tony Capaccio, Bloomberg)
U.S. to Destroy a Half-Billion Dollars' Worth of Unused Aircraft in Afghanistan (by Noel Brinkerhoff, AllGov)
Worst Examples of Taxpayer Money Wasted in Iraq and Afghanistan (by Noel Brinkerhoff, AllGov)