Most of State Dept.'s 30 Top Contractors Said to Engage in Policies that Suppress Whistleblowers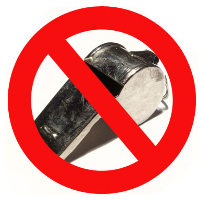 (photo illustration: Steve Straehley, AllGov)
The State Department has been doing business with 30 contractors who use policies that discourage whistleblowing by employees, according to a government audit.
The agency's inspector general (IG) has reported (pdf) that all 30 of the State Department's largest contractors use confidentiality agreements or policies that can curtail the disclosure of information related to wrongdoing within the company. The contractors collectively received about $4 billion from the agency in 2012, according to the Project on Government Oversight.
The report follows news that the Securities and Exchange Commission fined contractor KBR (formerly Kellogg Brown & Root) $130,000 for using similar confidentiality agreements that potentially chilled whistleblowing.
The 30 State Department contractors all told the IG that they never enforced their agreements against those attempting to disclose fraud or other wrongdoing. The IG, though, did not confirm these claims.
The report said 13 contractors required workers to tell their superiors about being contacted by a government auditor or investigator. Five contractors use non-disparagement agreements that demand current and former employees avoid saying anything negative about the company or its officers or employees.
"While some of these provisions may have a legitimate justification," the report states, "they still may have a chilling effect on employees who wish to report fraud, waste, or abuse to a Federal official."
-Noel Brinkerhoff
To Learn More:
Report Finds Shaky Whistleblower Support by Big Contractors (by Neil Gordon, Project on Government Oversight)
Review of the Use of Confidentiality Agreements by Department of State Contractors (Office of the Inspector General, U.S. Department of State) (pdf)
SEC Rules Contractor KBR Used Confidentiality Agreements that can "Muzzle" Whistleblowers (by Noel Brinkerhoff and Steve Straehley, AllGov)
FBI more Hostile to Whistleblowers than other Parts of the Government Are (by Noel Brinkerhoff and Steve Straehley, AllGov)
Terrorists, Spies, Whistleblowers Treated the Same by Obama Administration (by Noel Brinkerhoff, AllGov)