Justice Dept. Indicts 25 in Army National Guard Recruiting Fraud Scandal
Wednesday, October 28, 2015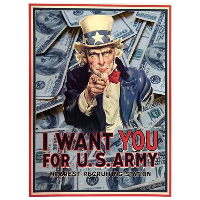 (photo illustration: Steve Straehley, AllGov)
A program meant to bring soldiers into the National Guard during the Iraq War was used as an ATM by recruiters, according to federal indictments.
The Department of Justice last Thursday released indictments against 25 current and former members of the Puerto Rico National Guard, charging them with conspiracy to defraud the government, wire fraud and aggravated identity theft, according to The Washington Post.
The scam, which continued for seven years, involved the National Guard Recruiting Assistance Program, in which uniformed recruiters used "assistants" employed by an outside marketing company—Alabama-based Docupak—to bring in recruits.
Assistants got bonuses if someone enlisted and additional bonuses if the recruits made it to boot camp. The fraud came in when recruiters shared information on other recruits to the assistants, who then claimed the bonuses and split them with the recruiters, who were prohibited from collecting bonuses. Individual payments were as high as $8,500.
"It was the object of the conspiracy for defendants and their co-conspirators to unlawfully enrich themselves by stealing and obtaining …. program bonuses under the false and fraudulent pretense that they were responsible for referring and recruiting soldiers into the Puerto Rico National Guard, when in fact they did not refer or recruit these potential soldiers," one of the indictments said, according to the Post.
There have already been 108 civilian prosecutions and 70 soldiers have been disciplined across the country in the scheme. "The Army is participating in a multi-agency task force to investigate and resolve fraudulent actions associated with the Recruiting Assistance Program and has had a sizable task force investigating other instances of fraud [in the program] for more than three years," Lt. Col. Joe Buccino, an Army spokesman, told the Post in an e-mail.
At a Senate hearing last year, the Army said that it had identified about $3.9 million in fraudulent payments. Investigators say the final cost to American taxpayers could reach $100 million.
-Steve Straehley
To Learn More:
Army Recruiting Scandal Nets New Indictments as Long Probe of Kickbacks Continues (by Lisa Rein, Washington Post)
Army Probes Allegations of Fraud by Recruiters and Others in Enlistment Referral Program (by Ernesto Londoño, Washington Post)
Military Recruiting Increasingly Aimed at Children (by Steve Straehley, AllGov)