Military Recruiting Increasingly Aimed at Children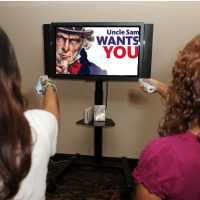 (photo: Larry Marano, Getty Images; photo illustration: Steve Straehley, AllGov)
Once it was tobacco companies targeting minors with cartoon characters. Now the U.S. military is similarly going after those too young to enlist, but old enough to begin forming impressions about whether they'd like to sign up for a tour of duty.
A study (pdf) by Joseph A. Rosendale and Mary Beth Leidman of Indiana University of Pennsylvania shows that military recruiters are adept at using social media, such as Facebook, Instagram and Twitter, to hone in on possible recruits.
"Social media is currently the best type of communication when dealing with the sub-18 population. Kids are not watching [traditional media] programming as much anymore…social media, including Facebook, Twitter, and Instagram are the absolute best ways [to reach them] right now," a Marine Corps recruiter told researchers.
But it starts at an even more basic level. The military knows that children can become addicted to video games and that some, such as "Call to Duty," can get them excited at the prospect of going into battle. The Army has even created its own game, "America's Army," in which players go through the enlistment experience from boot camp to deployment.
The key is to get contact information on the potential recruits. That task has been made easier thanks to the No Child Left Behind Act. Part of that law's mandate is that schools turn over personal information on students to military recruiters and allow them access to the schools for their message.
There's some question whether adolescents are capable of understanding the potential consequences of signing up for the military. Research has shown that young people can have a "heightened sense of empowerment or the feeling that if they were in the military they could 'stand up for themselves and no one could hurt them,'" according to the study.
As hard as the Pentagon is trying to recruit young people, there's one source they've once again been denied: House Republicans last week blocked a provision of a bill that would have allowed Dreamers, those brought illegally into the United States as youngsters, to obtain citizenship by joining the military.
-Steve Straehley
To Learn More:
Locked-In on Our Youth: An Inquiry into American Military Recruiting Media (by Joseph A. Rosendale and Mary Beth Leidman, Indiana University of Pennsylvania) (pdf)
Republicans Block Young Immigrant 'Dreamers' From Military (by Lisa Mascaro, Los Angeles Times)