Judge who Jailed Ferguson Residents for Debt Owes $172,646 in Back Taxes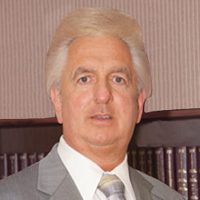 Judge Ronald Brockmeyer
A judge in Ferguson, Missouri, who's known for sentencing defendants to fines to fund city coffers, then jailing them when they can't pay, owes thousands of dollars himself to the Internal Revenue Service for back taxes.
Ronald J. Brockmeyer, a judge in the city where a policeman, Darren Wilson, shot and killed unarmed Michael Brown last year, has a string of unpaid taxes going back to 2007, according to The Guardian. The newspaper said he owes $172,646 to the IRS. Yet he has no compunction about sentencing a poor defendant to jail for not being able to pay a fine.
Brockmeyer developed a series of fees to raise revenue for the city on the backs of its poor residents, according to a report (pdf) by the Justice Department. "The list, drafted by Judge Brockmeyer, approvingly highlights the creation of additional fees, many of which are widely considered abusive and may be unlawful, including several that the City has repealed during the pendency of our investigation. These include a $50 fee charged each time a person has a pending municipal arrest warrant cleared, and a 'failure to appear fine,' which the Judge noted is 'increased each time the Defendant fails to appear in court or pay a fine.' The judge also noted increasing fines for repeat offenders, 'especially in regard to housing violations, [which] have increased substantially and will continue to be increased upon subsequent violations,' " the report said.
Ferguson officials have said their judicial system isn't the problem, it's the defendants who lack "personal responsibility." Brockmeyer seemed unwilling to require that everyone have the same responsibility; he was found to be dismissing citations issued to friends, police officers and others in Ferguson and neighboring jurisdictions.
"The common practice among Ferguson officials of writing off tickets further evidences a double standard grounded in racial stereotyping. Even as Ferguson City officials maintain the harmful stereotype that black individuals lack personal responsibility—and continue to cite this lack of personal responsibility as the cause of the disparate impact of Ferguson's practices—white city officials condone a striking lack of personal responsibility among themselves and their friends," the report said.
Brockmeyer, a prosecutor as well as a judge, has also paid overdue tax bills of $64,599 since 2013. At least he is taking some "personal responsibility."
-Steve Straehley
To Learn More:
Ferguson Judge Behind Aggressive Fines Policy Owes $170,000 in Unpaid Taxes (by Jon Swaine, The Guardian)
Justice Report Calls Ferguson Municipal Court an Abusive Fundraising Tool (by Jeremy Kohler, St. Louis Post-Dispatch)
Investigation of the Ferguson Police Department (Department of Justice Civil Rights Division) (pdf)
Ferguson Prosecutor Admits he Allowed False Evidence to be Presented to Grand Jury (by Noel Brinkerhoff, AllGov)
If Ferguson is 67% African-American, Why are the Mayor, the City Council Majority and 50 of 53 Police White? (by Noel Brinkerhoff and Steve Straehley, AllGov)