Ferguson Prosecutor Admits he Allowed False Evidence to be Presented to Grand Jury
Tuesday, December 23, 2014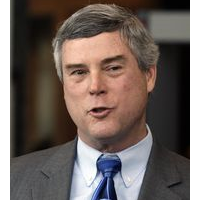 Bob McCulloch (photo: Tom Gannam, AP)
St. Louis County prosecutor Bob McCulloch has admitted that he allowed false testimony to be presented before the grand jury that decided not to indict Ferguson police officer Darren Wilson for killing Michael Brown.
The false testimony came from Witness 40, whose identity has been revealed by media sources as Sandra McElroy, who claimed to have seen Brown charge Wilson before the shooting. However, McElroy's story was found to have many holes in it when she was questioned by federal officers prior to her grand jury testimony.
McElroy has a history of bipolar mental illness and making racist remarks. Nonetheless, McCulloch called her twice to testify before the grand jury.
The prosecutor has said in interviews that Witness 40 "clearly wasn't present" at the scene of the shooting and that "she recounted her story right out of the newspaper," according to Shaun King at Daily Kos.
McElroy's "testimony would eventually mirror Wilson's better than any other witness," and "was never actually at the scene of the shooting and had concocted an elaborate and preposterous hoax of a narrative on why she was there, how she drove in, how she mysteriously drove off the scene, how she saw the entire incident from close range, how nobody could confirm her being there, how she had a deep and ugly racist history, and so much more," King wrote.
"By the time she finished her interview with the FBI, McElroy had perjured herself not one or two times, but well over 100 times. Her story, insulting, demeaning, and fundamentally outrageous was completely debunked by the FBI over and over again, yet Bob McCulloch, fully aware of this, called her not once, but twice as a witness," King added.
If McCullough indeed knew McElroy was giving false testimony it would be cause for a new prosecutor to be appointed in the case. That decision will be up to Maura McShane, the presiding judge of the 21st Circuit, who, according to ThinkProgress, can appoint another prosecutor if the original prosecuting attorney demonstrates a conflict of interest or bias.
-Noel Brinkerhoff
To Learn More:
Why Won't McCulloch Charge Witness #40 With Perjury? Time For A Special Prosecutor, New Grand Jury (by Shaun King, Daily Kos)
"Witness 40": Exposing A Fraud In Ferguson (by William Bastone, Andrew Goldberg and Joseph Jesselli, Smokng Gun)
4 Things that Should Happen Now That We Know the Truth about Witness #40, a White Supremacist (by Shaun King, Daily Kos)
A Startling Admission by the Ferguson Prosecutor Could Restart the Case Against Darren Wilson (by Judd Legum, ThinkProgress)