If Ferguson is 67% African-American, Why are the Mayor, the City Council Majority and 50 of 53 Police White?
Wednesday, August 20, 2014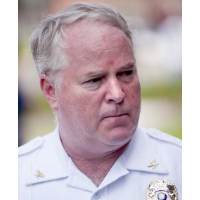 Ferguson Police Chief Thomas Jackson (photo: Sid Hastings, AP)
How does a town like Ferguson, Missouri, where two-thirds of residents are black, wind up with a predominantly white power structure which some blame for last week's shooting of Michael Brown and the subsequent unrest there?
Although the population of Ferguson is 67% African-American, the mayor is a white Republican and five of the six members of the city council are white, as are 50 of Ferguson's 53 police officers.
One of the main reasons for this disparity is that the city holds its local elections separate from state and federal balloting. While residents vote for governor or president in November of even-numbered years, Ferguson residents go to the polls to elect the mayor and city council in April of odd-numbered years.
Then there's the turnout problem. The black community is younger than the white minority, "and older voters tend to turn out at higher rates than younger voters," Ian Millhiser wrote at Think Progress. "Similarly, Ferguson's black residents are less likely to have longstanding roots in the community, and are more likely to rent than to own their homes. Both home ownership and longstanding residence correlate with higher voter turnout," Millhiser added.
Not surprisingly, black-voter turnout has been considerably less than white turnout.
Last year, only 6% of eligible black voters showed up at the polls for the municipal elections, compared to 17% of white voters. Turnout overall was anemic for that election, with only 11.7% of eligible voters casting ballots.
Ferguson's African-American voters do better during presidential elections. In 2012, 54% of eligible African-American voters turned out, very close to the 55% of white voters in that election.
The city's electorate could change its elections to coincide with federal and state elections by putting an amendment to the Ferguson charter on next April's ballot. Of course, people would actually have to come out to vote on the measure.
-Noel Brinkerhoff, Steve Straehley
To Learn More:
This Is the Most Important Reform Ferguson Can Enact to Give Its Black Residents a Voice (by Ian Millhiser, Think Progress)
2010 Census Interactive Population Search (U.S. Census Bureau)
Militarization of the Police…Ferguson Edition (by Noel Brinkerhoff, AllGov)