How Much do F-35s Cost? Beware of Answers from Lockheed-Martin
Tuesday, January 07, 2014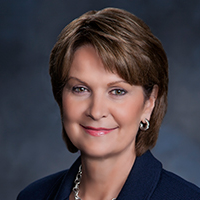 Lockheed Martin President and CEO Marillyn Henson
Pricey weapons programs for the U.S. military often produce severe cases of sticker shock once it's revealed just how much each new plane or tank will cost the taxpayers. Defense contractors that sell these lucrative pieces of hardware often will claim that the so-called "unit cost" of a new weapon will go down in time, as long as Congress buys enough of them to reduce expenditures related to production, spare parts, and research and development.
Take the F-35 for example.
This marvel of modern technology was developed, in part, so that more than one branch of the military could use it to replace aging tactical fighter planes. In doing so, the plane was supposed to be more cost-effective.
Lockheed Martin, manufacturer of the F-35, claims the country is really getting a bargain by purchasing the plane for the Air Force, Navy and Marine Corps. Overall, the per-plane cost will be only $85 million by 2019, the company argues.
Key officials in the Obama administration, including Defense Secretary Chuck Hagel, have echoed Lockheed's claim about the F-35s unit cost going down.
But a closer look at the plane's development reveals the unit cost will be at least double, if not more, than what Lockheed says.
An assessment by TIME magazine showed the average F-35 will cost nearly $220 million.
Another review, by the Project on Government Oversight, an independent watchdog organization, found that the "cheapest" F-35 will be $181 million. These will be produced for the Air Force. The planes made for the Marine Corps and the Navy will cost much more—$252 million and $299 million a piece, respectively.
-Noel Brinkerhoff
To Learn More:
The Latest Word on F-35 Unit Cost (by Winslow Wheeler, Project on Government Oversight)
Exclusive: U.S. Waived Laws to Keep F-35 on Track with China-Made Parts (by John Shiffman and Andrea Shalal-Esa, Reuters)
On Final Approach to Fighter Fiscal Sanity (by Winslow Wheeler, TIME)
Senator McCain Does About-Face and Turns to Lockheed for Key Staffer (by Noel Brinkerhoff, AllGov)
Fighter Jet Costs Jump 50%, Triggering Congressional Review and Lockheed Defense (by Noel Brinkerhoff, AllGov)