GAO Questions VA's Standards for Leasing Facilities
Thursday, September 29, 2016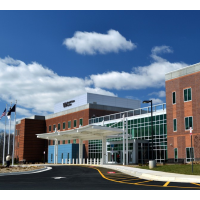 Leased VA facility in Kernersville, N.C.--Credit: VA
By Tim Ryan, Courthouse News Service
WASHINGTON – While the Department of Veterans Affairs (VA) claims its recent move to lease more of its facilities gives it added flexibility, a government accountability officer told Congress on Wednesday her agency would like to see evidence of that.
Rebecca Shea, acting director of physical infrastructure at the Government Accountability Office (GAO), told members of Congress on Wednesday that while VA has improved its decision-making process for determining when to lease rather than own a building, it has not yet proven the benefits it claims to receive from the decision.
"There are a lot of things that on its face seem like flexibility for the VA but they aren't collecting any of the information to demonstrate how they have used that flexibility," Shea told the House Subcommittee on Economic Development, Public Buildings and Emergency Management.
Shea said the VA has also done a poor job of estimating the costs of the leases it signs on to, with 18 of 23 leases the GAO looked at in a recent study coming in at either 15% above or below the original cost.
James Sullivan, director of asset enterprise management for the VA, told the committee that leasing health-care facilities and other buildings allows the VA to nimbly respond to changes in health-care technology and in the populations the agency serves.
Leasing facilities allows the VA to move to a different area to get closer to the veterans that facility serves if a significant population shift occurs, Sullivan said.
But members of Congress questioned whether the higher costs that come with leases are worth the benefits Sullivan testified to. Some were skeptical that the VA is negotiating the best deals it can on the leases it signs, while others suggested the agency might not be running its leasing program efficiently.
"Every dollar saved in a real estate transaction is a dollar that can be redirected to supportive services for veterans, an important priority for every member of Congress," Rep. Andre Carson (D-Indiana), said at the hearing.
Rep. Mark Meadows (R-North Carolina) specifically pressed Sullivan on why leasing benefitted the VA, when at the end of the 20-year deal the agency would end up with no assets. Surely building a facility would at least leave the agency with something of value at the end of the facility's life, Meadows said. But Sullivan offered two counters to Meadows' points. First, leasing a building allows the VA to get a new facility without having the full cost on hand, speeding up the process, Sullivan said.
Perhaps more importantly, leasing allows the VA to get out of a building once the speeding progress of medical technology outgrows its capabilities, Sullivan said.
"[The benefit] from a public sector standpoint is that we don't have an obsolete, outdated facility at the end of 20 years that we have to go back in and retrofit," Sullivan said. "And we have, unfortunately, many of those facilities in VA and we don't want to add more to that stock."
To Learn More:
The VA Hospital that Cost $1.7 Billion to Build…So Far (by Noel Brinkerhoff, AllGov)
Court Rules VA Is Misusing Sprawling L.A. Site, but Offers No Remedy (by Ken Broder, AllGov California)
VA Leases Land Meant for Disabled Vets to Oil Company and Other Private Businesses (by David Wallechinsky and Noel Brinkerhoff, AllGov)