The VA Hospital that Cost $1.7 Billion to Build…So Far
Wednesday, April 15, 2015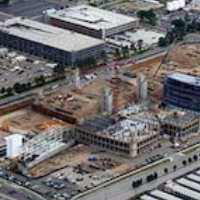 (photo: Kiewit-Turner)
A new veterans' hospital in Colorado is on track to become one of the most expensive medical centers in the world with a price tag so far of $1.7 billion.
Like so many other things associated with the Department of Veterans Affairs, the hospital in Aurora has been plagued by bad decisions that are proving very costly.
The facility was originally budgeted at $328 million. The VA says it will now need another $830 million to finish the project, which is going to take another five years.
The Washington Post reported that some of the reasons the project has gotten so out of hand are hospital doors that were supposed to cost $100 each, but instead cost $1,400 apiece and a design more focused on form than function.
"There's a $100-million-and-still-rising price tag for an atrium and concourse with curving blond-wood walls and towering glass windows," Emily Wax-Thibodeaux wrote at the Post. "And entire rooms that had to be refashioned because requests for medical equipment changed at the last minute and in other cases the equipment didn't fit. No one had bothered to measure."
The VA had been warned about cost overruns by contracting officials and even the prime contractor, Kiewit-Turner. "I must beg you once again that we re-think our strategies in New Orleans and Denver," Adelino R. Gorospe Jr., a contract specialist with the VA Office of Construction and Facilities Management, said in an e-mail on Sept. 1, 2011, according to the Post. "Without a change in strategy, my estimate would be around half a billion dollars in total cost overrun: $500 Million! That's how risky this type of contract is. Another reality check! Where in this economy are you going to find the money?"
The Obama administration plans to fund the remainder of the project without asking for more money from Congress. Even that proposal is drawing criticism from legislators though.
"For anyone familiar with the VA's allergy to accountability, the fact that they want to take money appropriated to fix one mistake to pay for another should be no surprise," Tyler Sandberg, a spokesman for Representative Mike Coffman (R-Colorado), said in a statement.
The $830 million to complete construction will come out of a special VA fund that was established to make the agency more efficient. The $5 billion fund was set up after it was revealed VA medical facilities in Phoenix had placed hundreds of veterans on a secret waiting list for care. At least 35 died while awaiting treatment.
-Noel Brinkerhoff
To Learn More:
Veterans Affairs Says It Has Money for Troubled Aurora Hospital (by Mark Matthews, Denver Post)
VA Building Projects Riddled with Mistakes and Cost Overruns (by Emily Wax-Thibodeaux, Washington Post)
Stark Contrasts between VA Aurora Debacle and Other Hospital Projects (by Electa Draper and David Olinger, Denver Post)
VA and Defense Dept. began Paying for New Records System while still Funding Abandoned One (by Noel Brinkerhoff, AllGov)