Customs to Pay Nearly Half-Million Dollars in Body Cavity Search Settlement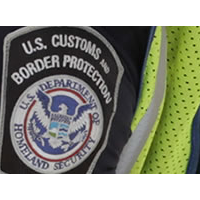 By David Lee, Courthouse News Service
EL PASO, Texas — U.S. Customs and Border Protection (CBP) has agreed to pay a woman $475,000 to settle claims that she was subjected to a "humiliating and demeaning" illegal body cavity search at an El Paso border crossing.
The unidentified woman, 56, of Lovington, New Mexico, sued several border patrol officers, the University Medical Center of El Paso and the El Paso County Hospital District in Federal Court in December 2013. She says the ordeal began when she tried to return home from Mexico and a drug-sniffing dog at the border was "alerted" on her.
"First, government agents stripped searched Ms. Doe and made a visual and manual inspection of her genitals and anus," the complaint stated. "Finding nothing, defendants next subjected her to an observed bowel movement. When that procedure yielded no evidence of drugs, defendants X-rayed Ms. Doe. Having found nothing, defendants next shackled Ms. Doe to an examining table and inserted a speculum into her vagina, performed a rectal exam on her, and conducted a bimanual cavity search of her vagina. Still not satisfied, defendants subjected Ms. Doe to a CT scan and again found no evidence of drugs."
She claims a CBP agent offered to pay for the cost of the searches if she signed a medical consent form, which she refused to do.
The medical center later allegedly sent the woman a $5,000 bill for the examinations. The hospital settled with the woman for $1.1 million in July 2014.
The woman's attorneys with American Civil Liberties Union affiliates in Texas and New Mexico said Thursday that they are "pleased to have obtained justice" for their client.
"Of course, this result could not have been achieved without Ms. Doe's courage and perseverance," said Rebecca Robertson, legal and police director of the ACLU of Texas. "Had she succumbed to the threats of CBP agents and remained silent, who knows how many others might have suffered a similarly despicable experience."
CBP officials did not immediately respond to an email message requesting comment Thursday evening.
The settlement also requires CBP to mandate more training for line officers and supervisors.
"This settlement is one of the largest of its kind ever reached over violations involving an individual search," the ACLU said in a statement. "Ms. Doe is deeply traumatized by her experience and continues to suffer emotional and psychological after effects."
Also Thursday, four ACLU affiliates along the Mexico border sent letters to 40 healthcare providers responsible for 110 facilities near the border advising the rights and responsibilities of hospital employees when facing requests for "invasive and illegal" body cavity searches by federal officials.
To Learn More:
Judge Criticizes Customs and Border Protection for Deporting 4-Year-Old U.S. Citizen (by Steve Straehley, AllGov)
Organization Demands Data on Border Patrol Abuse (by Erik De La Garza, Courthouse News Service)
10 Lawsuits Filed against Border Patrol for Abuse (by Matt Bewig, AllGov)