Organization Demands Data on Border Patrol Abuse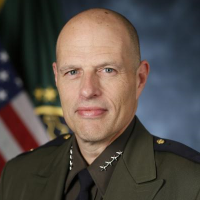 Border Patrol acting chief Ronald D. Vitiello
By Erik De La Garza, Courthouse News Service
WASHINGTON — The American Immigration Council sued Customs and Border Protection (CBP) for information on what it has done in the two years since records revealed that it took "no action" in 97% of cases accusing its agents of abuse.
The nonprofit research and legal organization says Customs and Border Protection, a branch of the co-defendant Department of Homeland Security, are long overdue to respond to the Freedom of Information Act request it submitted in October last year.
It seeks documents relating to complaints made against Customs and Border agents since January 2012, and the process the agency uses to investigate and resolve these complaints.
From an earlier FOIA request, the Immigration Council obtained data on 809 complaints of abuse by Border Patrol agents, lodged between January 2009 and January 2012.
Using that data, the Immigration Council published a May 2014 report, "No Action Taken: Lack of CBP Accountability in Responding to Complaints of Abuse."
That bruising report revealed that Customs and Border Protection took no action in response to 97% of the reports of abuse. It found that "physical abuse" was the most commonly cited complaint, found in 40% of cases, followed by "excessive use of force," in 38% of the cases.
"CBP's failure to produce the requested records violates FOIA and is impending the Immigration Council's efforts to assess and inform the public about CBP's progress, or lack thereof, in developing meaningful and transparent procedures for investigating and resolving complaints of abuse of USBP agents," the June 6 complaint states.
Mary Kenney, a senior staff attorney at the Immigration Council, said the Border Patrol historically has not been held accountable for the misconduct of its agents, and often tries to shield such misconduct from public scrutiny.
Customs and Border Protection is the largest law enforcement agency in the United States, with more than 20,000 agents.
"The trends we identified in our last report revealed a stunning lack of oversight and accountability on behalf of the agency," said Guillermo Cantor, Ph.D., deputy director of research at the American Immigration Council. "It's important that the public have the opportunity to see whether any progress has been made with respect to how CBP responds to complaints and holds its officers accountable."
The Immigration Council wants to see the documents it requested. It is represented by Brian Coleman, with Drinker Biddle & Reath.
In May, the American Civil Liberties Union of New Mexico filed an administrative complaint on behalf of 13 border residents, urging CBP and Homeland Security officials to investigate abusive treatment by officers at ports of entry in El Paso, Texas and southern New Mexico.
The complaint details officers' use of excessive force, verbal abuse, humiliating searches and intimidation to coerce people into surrendering their legal rights, according to the ACLU. In multiple cases, border residents complained that officers discouraged or failed to inform them of how to file a complaint.
To Learn More:
Citizens' Growing Protests against Border Patrol Checkpoints Inside the U.S. (by Danny Biederman and Noel Brinkerhoff, AllGov)
67 Border Patrol Shooting Internal Investigations; No Criminal Charges (by Noel Brinkerhoff, AllGov)
10 Lawsuits Filed against Border Patrol for Abuse (by Matt Bewig, AllGov)