26% of Alaska's 3,800 Backlogged Rape Kits to Be Processed with $1-Million Federal Grant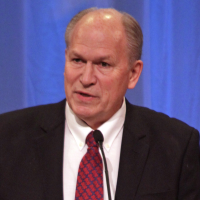 Gov. Bill Walker (photo: Wikimedia Commons)
By Julie St. Louis, Courthouse News Service
ANCHORAGE, Alaska (CN) - Alaska will receive a $1.1 million grant from the U.S. Department of Justice to process the Alaska State Troopers' backlog of more than 1,000 rape kits, some dating as far back as 1984.
An audit conducted by Gov. Bill Walker's office and the troopers uncovered a total of 3,800 rape kits across the state that were never submitted for processing.
"Alaska has some of the highest rates of sexual assault and domestic violence in the nation. We must end this terrible epidemic, and that starts by addressing the thousands of sexual assault kits in the possession of law enforcement," Walker said in a statement this week announcing the grant award.
"We owe it to victims and their families to deliver justice to perpetrators and bring closure to these tragic experiences."
The Alaska State Troopers' backlog represents about a third of the unprocessed kits. Another 1,400 are from the Anchorage Police Department, and the remainder are from 50 other municipalities and boroughs that collect evidence of sexual assault.
"We did not know about this problem before we ordered the audit. It is now a top priority," Walker told the Alaska Dispatch News in July, when the audit results were announced. "The goal is to clear the backlog within one year."
Walker initiated the inventory after bills introduced in the Legislature in 2015 that sought the audit stalled in committee.
The three-year grant from the Justice Department will allow kits held by the Alaska State Troopers to be assessed at the state crime lab for probative value. The money will also pay a cold-case investigator and prosecutor to focus on leads uncovered by the assessment, Walker said.
Approximately 1,000 kits in jurisdictional control of the state troopers will be transferred to the Alaska Scientific Crime Detection Laboratory for processing and potential prosecution.
Additionally, the University of Alaska-Anchorage Justice Center will evaluate the kits to identify any consistent factors that could have led investigators to not process them in the first place. These factors will be used to improve statewide training and encourage changes in law enforcement statewide.
"While we cannot solve these problems overnight, this grant will help us to make great strides in reducing the number of unprocessed sexual assault kits in Alaska," Walker said. "These kits represent real people who are the victims of horrific crimes. We owe it to them, and all Alaskans, to end this pattern and ensure sexual assault kits are processed in a timely manner."
The grant to Alaska is one of 19 such grants awarded to jurisdictions across the nation under the federal National Assault Kit Initiative, initiated by Justice Department's Bureau of Justice Assistance.
Last month, the bureau awarded more than $38 million to help state, tribal and local government agencies to process rape kits that have not yet been submitted to forensic laboratories.
To Learn More:
10,000 Backlogged Rape Kits Finally Tested Lead to Hundreds of Indictments in Ohio (by Kim Palmer, Reuters)
At Least 70,000 Rape Kits Remain Untested (by Steve Straehley, AllGov)
S.F. Police Chief Balks at Chance to Track Down Pre-2003 Rapists (by Ken Broder, AllGov California)
Increased Testing of Old Rape Kits Starting to Lead to more Arrests and Convictions (by Noel Brinkerhoff, AllGov)