10,000 Backlogged Rape Kits Finally Tested Lead to Hundreds of Indictments in Ohio
Monday, February 22, 2016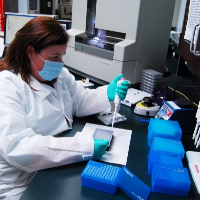 A rape kit being tested (photo: Tennessee Bureau of Investigation)
By Kim Palmer
CLEVELAND (Reuters) - An effort Ohio launched about five years ago to manage its backlog of rape kits has resulted in more than 10,000 tests to recover physical evidence and led to at least 445 indictments, the state Attorney General's office said on Thursday.
"This is a tremendous milestone," Ohio Attorney General Mike DeWine said. "The testing of these 10,000 kits has helped identify hundreds of alleged assailants, many of whom repeatedly committed violent attacks."
Ohio began its program ahead of a White House initiative launched in 2015 to spend $41 million to accelerate testing nationwide of an estimated 400,000 rape kits that have been back logged in law enforcement storage rooms and crime labs.
In September 2015, Manhattan District Attorney Cyrus Vance said his office awarded $38 million in grants toward the initiative.
The kits collect evidence from the body and clothing of a victim of rape or sexual assault. DNA extracted is typically checked for matches on a DNA database of convicted criminals.
More than 12,200 rape kits from 252 law enforcement agencies around the Ohio have been sent to the state's Bureau of Criminal Investigation since 2011 as part of a special initiative that has led to 3,629 hits in the Combined DNA Index System (CODIS).
In the past few years, more than 45 bills have been introduced in 19 states that address rape kit testing reform, according to End the Backlog, which seeks to have the kits tested.
In Ohio, legislation passed in 2014 requires law enforcement to submit any remaining kits to a crime laboratory within one year. Nearly 3,000 kits have been submitted since the law went into effect.
In Cuyahoga County, which includes Cleveland, 445 defendants have been indicted using evidence from rape kits, and 162 of those convicted have been identified as serial offenders, according to the Cuyahoga County Prosecutor's Office.
To Learn More:
At Least 70,000 Rape Kits Remain Untested (by Steve Straehley, AllGov)
S.F. Police Chief Balks at Chance to Track Down Pre-2003 Rapists (by Ken Broder, AllGov California)
Increased Testing of Old Rape Kits Starting to Lead to more Arrests and Convictions (by Noel Brinkerhoff, AllGov)
14-Year-Old Rape Kit, Finally Tested, Leads to Arrest of Ex-Cop (by Steve Straehley, AllGov)
10-Year Backlog of 12,000 Untested Rape Kits in Memphis May Have Resulted in More Rapes (by Noel Brinkerhoff, AllGov)
Illinois City Sued for Not Testing Hundreds of Rape Kits (by Noel Brinkerhoff and David Wallechinsky, AllGov)
Murder and Rape DNA Test Backlog Hits 350,000 (by Noel Brinkerhoff, AllGov)