At Least 70,000 Rape Kits Remain Untested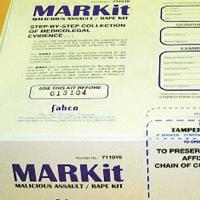 An investigation by USA Today shows that at least 70,000 rape kits lie in police department freezers across the country, waiting to be tested.
That number is probably far short of the actual total of the kits that haven't been tested. The newspaper coordinated an open-records campaign and received responses from more than 1,000 law enforcement agencies. However, there are about 18,000 such departments in the country.
Most departments have no consistent policy on how to process the kits, Steve Reilly wrote at USA Today. Some test all kits, but others test only a few. In other departments, it depends on the officer assigned the case.
Police departments aren't always enthusiastic about helping rape victims. "The fact is that often rape kits are unsubmitted for testing because of a blame-the-victim mentality or because investigators mistrust the survivor's story," Illinois Attorney General Madigan told a U.S. Senate subcommittee in May. "This outdated way of thinking must change."
Nor are the agencies getting all the help they should from the federal government. A 2013 law required the Department of Justice to publish "a description of protocols and practices . . . for the accurate, timely, and effective collection and processing of DNA evidence, including protocols and practices specific to sexual assault cases." That was supposed to be accomplished by September 7, 2014, but has yet to be done. There has been $1.2 billion appropriated to ensure that rape kits are tested, but some of that money has been used on other things, according to USA Today. The appropriation would pay for the testing of about 1 million kits.
Cost can be a factor for smaller departments; the tests cost more than $1,000. That can discourage police from rooting through the cold case files.
Colorado, Illinois, Michigan, Ohio, Texas and Washington have laws mandating the testing of rape kits. Other states are considering legislation requiring the testing of all, or newly taken, rape kits or at least requiring an inventory of untested kits.
"They've had success stories with testing these kits," Col. Elmer Setting, who leads the New Castle (Delaware) Police Department told USA Today. "It's amazing how, (for) many of these sexual predators, we have their DNA and we never tested the kit. It doesn't make any sense."
-Steve Straehley
To Learn More:
Tens of Thousands of Rape Kits Go Untested Across USA (by Steve Reilly, USA Today)
No Action on Rape Kits Despite New Laws, Federal Money (by Steve Reilly, USA Today)
S.F. Police Chief Balks at Chance to Track Down Pre-2003 Rapists (by Ken Broder, AllGov California)
Increased Testing of Old Rape Kits Starting to Lead to more Arrests and Convictions (by Noel Brinkerhoff, AllGov)
14-Year-Old Rape Kit, Finally Tested, Leads to Arrest of Ex-Cop (by Steve Straehley, AllGov)