Who are the 8 Americans Killed by Drone Strikes?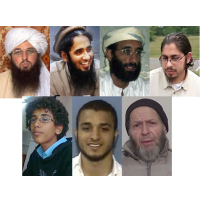 Top, from left: Adam Gadahn, Ahmed Farouq, Anwar Al-Awlaki, Samir Khan Bottom, from left: Abdulrahman al-Awlaki, Jude Kenan Mohammed, Warren Weinstein
Since drones have been employed to kill terror suspects overseas, at least eight Americans have died in such attacks, seven during the Obama administration. Only one was specifically targeted, according to the U.S. government.
The one American targeted by the Central Intelligence Agency was Anwar al-Awlaki, who was born in New Mexico. The Islamic cleric plotted to blow up a Detroit-bound plane in 2009, which made him the focus of a drone strike in Yemen on September 30, 2011. The same strike also killed Samir Khan, who was born in Saudi Arabia but grew up in New York. Obama administration officials claimed that Khan, the editor of Inspire magazine, was not targeted.
Another American victim of a U.S. drone mission was Abdulrahman al-Awlaki, the 16-year-old son of al-Awlaki. He was killed in Yemen two weeks after his father and Khan. The government claimed he was not targeted, but then-presidential press secretary Robert Gibbs said at the time that the death was justified and "he should have had a more responsible father."
The fourth American to die by drone under Obama was Jude Kenan Mohammad of North Carolina, who died in an attack on an al-Qaeda compound in South Waziristan on November 16, 2011. He had been indicted in the U.S. and was on the FBI's Most Wanted Terrorist list for conspiracy to provide material support to terrorists and conspiracy to murder.
This year, a January 14 drone strike in Pakistan killed Ahmed Farouq, an American who had become al-Qaeda's deputy commander in the country. There is some confusion about Farouq's origins because, until the White House announcement of his death, he had been identified as Pakistani. The same attack killed an American hostage, 73-year-old grandfather Warren Weinstein, who was kidnapped on August 13, 2011. Weinstein worked for J.E. Austin Associates, a contractor the U.S. Agency for International Development (USAID). A third victim was Italian hostage Giovanni Lo Porto.
Five days later, American Adam Gadahn, born Adam Pearlman, was killed by a Predator in Pakistan on January 19. Gadahn was a California native, the son of a goat farmer, who converted to Islam in the 1990s. In 1998, he traveled to Pakistan to become an al-Qaeda translator and propagandist who frequently appeared in al-Qaeda videos and was indicted in California in 2006 for treason, the first such charge since the World War II era.
The first American to die in a drone strike, while George W. Bush was still president, was Kamal Derwish, of Lackawanna, New York, who was traveling with Abu Ali al-Harithi, organizer of the 2000 attack on the USS Cole, when a CIA missile struck their vehicle on November 5, 2002, in Yemen. The CIA reportedly knew Derwish was in the car.
-Noel Brinkerhoff
To Learn More:
Only One of Six Al-Qaeda-Linked Americans Killed by Drone on Purpose (by Robert Windrem, NBC News)
The U.S. Keeps Killing Americans in Drone Strikes, Mostly by Accident (by Adam Taylor, Washington Post)
Revisiting the al-Harithi/Derwish Assassination (EmptyWheel)
Obama Administration Debates Whether to Kill another American Citizen with Drone Strike (by Noel Brinkerhoff, AllGov)
Secret U.S. Government Memo Justifies Assassinations of American Citizens (by Noel Brinkerhoff, AllGov)
Third U.S. Citizen Killed by Obama's Yemen Drone Strikes was a 16-Year-Old Boy (by Noel Brinkerhoff and David Wallechinsky, AllGov)