Obama Administration Debates Whether to Kill another American Citizen with Drone Strike
Wednesday, February 12, 2014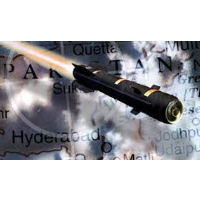 (graphic: CBS, AP)
Officials within the Obama administration are deciding whether to use drones to kill another American overseas suspected of working with al Qaeda.
The identity of the individual in question was not revealed by the Associated Press, which broke the story on Monday.
The AP reported that the American is helping plan anti-American attacks from inside Pakistan.
But under new policy guidelines approved by President Barack Obama, drones operated by the Central Intelligence Agency cannot be used to attack U.S. citizens.
Drones under the command of the Pentagon can kill Americans outside the U.S.—but such drones are currently prohibited from operating inside Pakistan.
And going after the target using Special Forces is considered too risky because he is reportedly "well-guarded and in a fairly remote location, so any unilateral attempt by U.S. troops to capture him would be risky and even more politically explosive than a U.S. missile strike," the AP's Kimberly Dozier wrote.
So the administration does not know how, or whether, it should go after this alleged American terrorist.
Some officials told AP that the person has already facilitated attacks against U.S. citizens overseas. It has also been reported that the U.S. Department of Justice is in the process of building its case against the individual. By law, the department must show that killing the alleged "enemy combatant" via military action is "legal and constitutional."
When asked about the matter, White House Press Secretary Jay Carney recited Obama's remarks last year about hunting down Americans suspected working with al Qaeda.
"When a U.S. citizen goes abroad to wage war against America and is actively plotting to kill U.S. citizens, and when neither the United States, nor our partners are in a position to capture him before he carries out a plot, his citizenship should no more serve as a shield than a sniper shooting down on an innocent crowd should be protected from a SWAT team," Carney quoted from an Obama speech in 2013.
To date, four Americans have been killed in drone strikes during Obama's time in office. Included in this total is Anwar al-Awlaki, a U.S.-born Muslim cleric who died in a drone attack launched in Yemen three years ago. He was the only one among the four who had been intentionally targeted, according to the White House.
News of the debate involving the American in Pakistan prompted criticism from the American Civil Liberties Union (ACLU).
"The government's killing program has gone far beyond what the law permits, and it is based on secret evidence and legal interpretations," Hina Shamsi, director of the ACLU's National Security Project, said in a prepared statement.
"The targeted killing of an American being considered right now shows the inherent danger of a killing program based on vague and shifting legal standards, which has made it disturbingly easy for the government to operate outside the law. The fact that the government is relying so heavily on limited and apparently unreliable intelligence only heightens our concerns about a disastrous program in which people have been wrongly killed and injured. Today's revelations come as the administration continues to fight against even basic transparency about the thousands of people who have died in this lethal program, let alone accountability for the wrongful killings of U.S. citizens," Shamsi added.
In addition to the identity of the American, the Obama administration has not revealed what he has been accused of doing or what evidence exists against him.
-Noel Brinkerhoff
To Learn More:
Obama Officials Weigh Drone Attack on US Suspect (by Kimberly Dozier, Associated Press)
U.S. Debates Drone Strike on American Terrorism Suspect in Pakistan (by Mark Mazzetti and Eric Schmitt, New York Times)
U.S. Considering Targeted Killing of American (American Civil Liberties Union)
Secret U.S. Government Memo Justifies Assassinations of American Citizens (by Noel Brinkerhoff, AllGov)
Third U.S. Citizen Killed by Obama's Yemen Drone Strikes was a 16-Year-Old Boy (by Noel Brinkerhoff and David Wallechinsky, AllGov)