White House Transcript Becomes Diplomatic Misstep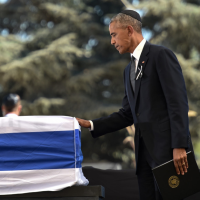 President Obama pays respects to Shimon Peres--Credit: Getty Images
By Josh Lederman, Associated Press
WASHINGTON — The White House rushed Friday to correct a diplomatic blooper after an official transcript listed Jerusalem as part of Israel, contradicting a delicate U.S. policy that takes no position on the city's status.
The mix-up came in a transcript of President Barack Obama's eulogy at the funeral for former Israeli President Shimon Peres. The funeral took place at Mount Herzl, Israel's national cemetery, in Jerusalem.
The White House press office routinely issues transcripts of Obama's speeches and includes the location of the speech at the top. A transcript released shortly after the funeral listed the location as "Jerusalem, Israel." Hours later, while Obama was still flying back from Israel, the White House issued a corrected transcript listing merely "Jerusalem" and with "Israel" crossed out with a line.
For decades, Jerusalem's status has been one of the most difficult and emotional issues in the Israeli-Palestinian conflict. The Palestinians claim east Jerusalem, captured by Israel in 1967, as the capital of their future state, but Israel's government considers a united Jerusalem to be its eternal capital. Mount Herzl is on the western end of the city.
U.S. policy refuses to recognize any nation's sovereignty over Jerusalem until Israelis and Palestinians resolve the city's status through negotiations. Although Israel's parliament, high court and government offices are in Jerusalem, the American Embassy in Israel is in Tel Aviv, as are the vast majority of embassies in Israel.
The tortured nature of a U.S. policy that tries to avoid taking a position about a heavily populated city has occasionally caused the U.S. headaches.
Government officials have occasionally had to correct public statements in which they unwittingly lumped Jerusalem in with the country that surrounds it. Last year, the Supreme Court ruled that Americans born in Jerusalem can't list Israel as their birthplace on their passports, despite legislation Congress passed in 2002 allowing Americans to list Jerusalem in passports and calling for the U.S. Embassy to be moved to Jerusalem.
Minor corrections to White House transcripts are not uncommon, and the mistake in the eulogy transcript appeared to be a clerical oversight. The White House declined to comment on the error, but pointed to a statement reiterating official U.S. policy that Jerusalem's status should be addressed in a way that respects both Israeli and Palestinian rights.
"We believe that through good-faith direct negotiations, the parties should mutually agree on an outcome that realizes the aspirations of both parties for Jerusalem and safeguards its unique religious status for people around the world," the statement said.
To Learn More:
A Reminder: U.S. Pays One Quarter of Israel's Defense Budget (by Noel Brinkerhoff and Steve Straehley, AllGov)
U.S. and Israel Lose UNESCO Voting Rights (by Matt Bewig, AllGov)
U.S. Policy Opposing Israeli Settlements Belies Millions in Tax-Deductible Donations Made by Americans Who Support Them (by Noel Brinkerhoff and Steve Straehley, AllGov)