U.S. Policy Opposing Israeli Settlements Belies Millions in Tax-Deductible Donations Made by Americans Who Support Them
Thursday, December 24, 2015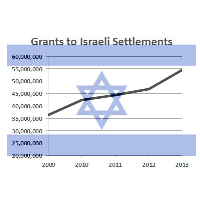 (graphic: Steve Straehley, AllGov)
The U.S. government has consistently opposed Israeli settlements in the Occupied Territories since the 1960s. But that policy has not stopped Americans from donating millions of tax-deductible dollars to nonprofits that financially support these settlements, costing the U.S. Treasury Department lost revenue.
The U.S. policy on the settlements is clear. "This administration never defended or supported any activity associated with the settlements. It doesn't support or advance any activity that will legitimize them," according to a senior Obama Administration official. But as Uri Blau wrote for Haaretz, "Plaques honoring American donors on buildings or promenades they helped to erect in the settlements suggest otherwise. If Obama means it when he warns Israel about the consequences of its settlement policy, he should explain why his country keeps subsidizing it."
Blau conducted a year-long investigation into the financing of the settlements. He found 50 pro-Israeli settlement nonprofits aided by U.S. donors had funneled more than $220 million to Jewish communities in the West Bank from 2009 to 2013. The organizations spent the money, much of which was tax-deductible, on everything from air conditioners to supporting the families of convicted Jewish terrorists.
The 50 groups raised $73 million and allotted $54 million in grants to settlements in 2013 alone.
Their revenues during the four-year period reviewed totaled about $281 million. Nearly 80% of this income, or $224 million, was transferred to the occupied territories as grants using mostly Israeli nonprofits.
-Noel Brinkerhoff, Steve Straehley
To Learn More:
Haaretz Investigation: U.S. Donors Gave Settlements More Than $220 Million in Tax-exempt Funds Over Five Years (by Uri Blau, Haaretz)
Why is the U.S. Subsidizing Israeli Settlements? (by Uri Blau, Washington Post)
Israelis Linked to Settler Terrorism were from U.S. Families (by Steve Straehley and Noel Brinkerhoff, AllGov)
Israeli Settlers Throw Stones at U.S. Diplomats (by Steve Straehley, AllGov)
McDonald's Refuses to Open Branch in West Bank Mall (by Noel Brinkerhoff, AllGov)