When Israelis Kill Gaza Civilians, They do so with Weapons Provided by U.S.
Wednesday, August 27, 2014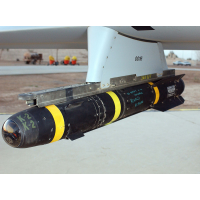 (photo: Scott Reed, U.S. Air Force, Wikipedia)
When a country like the United States provides more than $3 billion a year in military aid to a country like Israel, which often is involved in wars, American-made hardware is bound to wind up being used.
So has been the case in the recent fighting between Israeli Defense Forces and Hamas. In fact, one of the most tragic events of the conflict involved a U.S.-made weapon.
When Israel launched the missile attack earlier this month that killed 10 civilians in a United Nations school, it used an American-made Hellfire missile, according to The Washington Post. The State Department labeled the attack a "disgraceful'' act.
That wasn't the only time that American weaponry has been used against Hamas and the Palestinians living in Gaza.
A Mark 84 bomb made in the U.S. was found unexploded in the city of Deir al Balah, while 120mm artillery shells—stamped with "Made in USA"—have apparently landed in Rafah, based on shell casings found.
Some of Israel's allies and suppliers, including Spain and Britain, are backing off of or at least reviewing their military shipments. The United Nations has condemned Israel's use of heavy weapons against those in Gaza.
Meanwhile, the Obama administration is providing Israel with more Hellfire missiles. Regardless of what Israel does with them, the U.S. is likely to continue its material support of the Jewish state.
-Noel Brinkerhoff
To Learn More:
In Deaths of Civilians in Gaza, U.S. Weapons Sales to Israel Come under Scrutiny (by Sudarsan Raghavan and Ruth Eglash, Washington Post)
Obama Administration Sells Israeli Military Extra Grenade and Tank Rounds to Use in Attack on Gaza (by Noel Brinkerhoff, AllGov)
U.S. Only Country of 47 to Vote against Investigating Possible Human Rights Violations during Israeli Occupation of Gaza (by Noel Brinkerhoff, AllGov)