Obama Administration Sells Israeli Military Extra Grenade and Tank Rounds to Use in Attack on Gaza
Saturday, August 02, 2014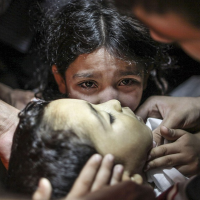 9-year-old Ansam holds the body of her 4-year-old brother, Sameh Jned, killed by an Israeli tank in Gaza (photo: Ali Jadallah)
While criticizing its military action that has resulted in large numbers of civilian casualties, the Obama administration has also provided Israel with munitions to use in its continued campaign against Hamas.
A Pentagon spokesman, Colonel Steve Warren, told the media that the "civilian casualties in Gaza have been too high," and that the Israelis "need to do more to live up to their very high standard...for protecting civilian life."
But the concerns weren't enough for U.S. officials to turn down Tel Aviv's request for more military assistance, specifically 120mm tank rounds and 40mm illumination rounds for grenade launchers.
Washington received the request on July 20 and three days later approved the munitions release from a special stockpile in Israel known as the War Reserve Stockpile Ammunition-Israel. The U.S. set up the little-known arsenal several years ago in case of need by U.S. or Israeli forces. Other Israeli requests for ammunition are being processed in the United States.
The U.S. decision comes after the death of more than 1,300 Palestinians during Israel's military operation inside Gaza. The United Nations estimates that at least 70% of fatalities have been civilians. Several dozen Israeli soldiers and three Israeli civilians have also died in the fighting.
-Noel Brinkerhoff
To Learn More:
Pentagon Issues Rare Criticism of Israeli Military after Releasing More Weapons (by Jon Harper, Stars and Stripes)
U.S. Has Sold Ammunition to Israel Since Start of Gaza Conflict (by Luis Martinez, ABC News)
U.S. Resupplies Israel with Munitions as Gaza Offensive Rages (Reuters)
U.S. Only Country of 47 to Vote against Investigating Possible Human Rights Violations during Israeli Occupation of Gaza (by Noel Brinkerhoff, AllGov)