VW Payout to Deceived American VW Owners: $15 Billion; Payout to European Owners: $0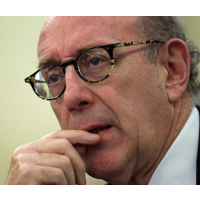 Kenneth Feinberg, head of compensation claims for VW (photo: Alex Wong, Getty Images)
By Jack Ewing, New York Times
FRANKFURT, Germany — Volkswagen owners in the United States will receive about $20,000 per car as compensation for the company's diesel deception. Volkswagen owners in Europe at most get a software update and a short length of plastic tubing.
The startling gap in treatment is the result of European laws that shield corporations from class action suits brought by unhappy consumers. Now a group of online legal startups wants to change the status quo.
Lawyers in Berlin, Paris and elsewhere in Europe are teaming up with new online services to recruit clients en masse and try to get around the usual restrictions on consumer lawsuits. If they are successful, the cost to Volkswagen will dwarf the company's $15 billion settlement in the United States.
The campaigns are attracting people like Jurgen Franz, a retired advertising executive in Munich who says his Volkswagen, a diesel Tiguan sport utility vehicle, burns more fuel after a software update that was part of a mandatory recall.
"Why are they getting so much and we're getting nothing?" Franz said of U.S. owners.
Plaintiffs' lawyers hope the efforts will signal a turning point in European jurisprudence, opening up a clearer path for aggrieved customers to join forces across borders to sue big corporations.
Owners' representatives in Europe are seeking a maximum of 5,000 euros ($5,600) per car, much less than in the United States. But even that figure could be financially devastating. There are 8.5 million tainted diesels in Europe.
The startups are taking advantage of a loophole that allows European consumers to sign over their legal claims to third-party service providers, which then try to recover damages. And the internet has made it possible to recruit huge numbers of consumers who share similar gripes.
People who search Google for the German words for "Volkswagen damage claim" see an ad for the website My-right.de. In Paris, Weclaim.com is attracting French customers. Both websites have teamed up with lawyers and are expanding into other European countries.
"The model has existed for a long time," said Sven Bode, managing director of Financialright, the Hamburg-based company that owns My-right.de.
To Learn More:
FTC Sues VW for 7 Years of Deceptive "Clean Diesel" Advertising (by Michael Biesecker, Associated Press)
New Jersey Fourth State to Sue VW over Excess Diesel Emissions (by David Shepardson, Reuters)
Volkswagen Now Investigated for Fraud on Buyers' Environmental Tax Credits (by Steve Straehley, AllGov)
VW Cheating Scandal Repercussions Spread to Tennessee (by Noel Brinkerhoff and Steve Straehley, AllGov)