U.S. Tech Giants Team to Fight Online Terrorist Propaganda While Pressed by European Officials to Curb Hate Speech
Thursday, December 08, 2016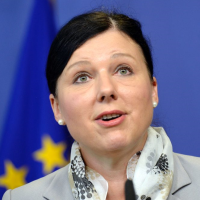 EU Justice Commissioner Věra Jourová (photo: Thierry Charlier, AFP via Getty Images)
By Mark Scott, New York Times
European officials pushed on Tuesday for American technology giants to do more to tackle online hate speech across the region, adding to the chorus of policymakers worldwide demanding greater action from the likes of Facebook, Google and Twitter.
The rebuke came a day after many of those companies announced that they were joining forces to fight the spread of terrorist content on the internet, agreeing to share technology and information to prevent propaganda and other dangerous materials from being disseminated on their services.
Amid growing security tensions in much of the Western world, governments, intelligence agencies and advocacy groups want Google, Microsoft and other technology companies to take further steps to curb hate speech on digital platforms, as well as to clamp down on how terrorists circulate information online.
But freedom of expression campaigners have warned that such demands may limit people's ability to communicate across the internet, and they have cautioned that the line between hate speech and legitimate political discussion can be blurry.
In a report published on Tuesday, however, the European authorities signaled that only 40 percent of material flagged as possible hate speech online (albeit in a relatively small sample of 600 posts, videos and other online material) had been reviewed by the Silicon Valley companies within 24 hours. Of those 600 postings, just over a quarter was eventually taken down, the report said.
"While I.T. companies are moving in the right direction, the first results show that the I.T. companies will need to do more to make it a success," Vera Jourova, the European commissioner for justice, consumers and gender equality, said in a statement. "It is our duty to protect people in Europe from incitement to hatred and violence online."
Press officers for Google and Microsoft declined to comment. Representatives for Facebook and Twitter were not immediately available to comment.
In a recent interview, Richard Allen, Facebook's head of public policy in Europe, said that the social network was committed to tackling hate speech online, but that there was a fine line between what was legitimate under freedom of speech laws and what was required to protect people online.
"Our policies provide protection from hate speech," Allen said last month. "We shouldn't apply media regulation to the speech of ordinary citizens."
The report on Tuesday is part of European efforts to coax American technology companies to take more responsibility for what is published through their services. In May, companies including Google, Facebook and Twitter signed a voluntary code of conduct, agreeing to do more to tackle the rise of online hate speech across the 28-member European Union.
Some lawmakers, though, are not satisfied.
In Germany, where Facebook, in particular, has come under scrutiny, a government-backed task force is to report early next year on whether the social network, among other companies, has met national targets for responding to — and potentially eliminating — hate speech. Officials want companies to remove at least 70 percent of online hate speech within 24 hours of it being reported.
Heiko Maas, the German justice minister, has said that Facebook could even be held criminally liable for illegal hate speech posts, and he has called for legislation if the company does not meet its legal commitments.
"Facebook has a certain responsibility to uphold the laws," Maas said.
The social network denies any wrongdoing.
To Learn More:
Twitter Suspends "Alt-Right" User Accounts in Crackdown on Hate Speech (by Bree Fowler, AP)
Twitter Still Trump's Favorite Tool for Fear Mongering and Character Assassination (by Alexander Burns and Maggie Haberman, New York Times)
Twitter Pulls Plug on 125,000 Extremists' Accounts (by Mike Isaac, New York Times)
Tech Firms Grapple with Protecting Free Speech versus Aiding Feds against ISIS (by Brandon Bailey and Julie Pace, Associated Press)