U.S. Bombing of Afghanistan Hits 2-Year High
Wednesday, October 15, 2014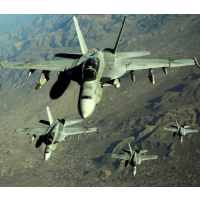 U.S. bombers flying over Afghanistan (photo: Staff Sgt. Andy M. Kin, U.S. Air Force)
With American troops preparing to pull out by January, the United States has ramped up its aerial attacks against the Taliban in Afghanistan.
August saw a spike in bombing missions, reaching a two-year high, according to the Boston Globe. Obtaining figures from U.S. Central Command, the newspaper found the military carried out 436 "weapon releases" in August—the highest total since August 2012. An average of 150 releases occurred over each of the previous seven months.
Some military observers say the Pentagon may be increasing air support missions to help American ground forces pull out of forward operating bases and prepare to ship home.
Other experts say more U.S. bombing attacks may become a regular part of the strategy in Afghanistan to compensate for fewer troops starting next year, when only 12,500 will remain behind to help Afghan security forces handle the brunt of the war against insurgents.
Although ground troops are leaving, don't expect the air strikes to slow down. "Even though we will have less soldiers and Marines on the ground, I think you are going to see the same tempo of operations, air power-wise," retired Lieutenant General Richard Y. Newton, the former vice chief of staff of the Air Force, told the Globe. "I believe that we are going to have '1-800-air power' for the conceivable future in Afghanistan."
-Noel Brinkerhoff, Steve Straehley
To Learn More:
US Intensifies Afghan Airstrikes as Drawdown Nears (by Bryan Bender, Boston Globe)
Obama has Bombed 7 Muslim Countries…and 0 Christian Ones (by Noel Brinkerhoff, AllGov)
Despite Talk of Drones, 3/4 of U.S. Missiles in Afghanistan are Fired by Piloted Airplanes (by Matt Bewig, AllGov)