U.S. Bans Commercial Trade of Ivory Goods in Effort to Stem Slaughter of African Elephants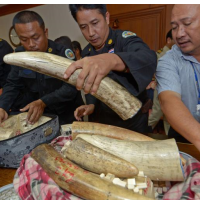 Ivory tusks from Angola confiscated by Thailand officials (photo: Pornchai Kittiwongsakul, AFP/Getty Images)
By Ramona Young-Grindle, Courthouse News Service
WASHINGTON (CN) — The U.S. Fish and Wildlife Service announced it has finalized a new rule (pdf) to virtually stop all domestic trade in ivory to address unparalleled elephant poaching. Noting that an estimated 100,000 elephants, one every 15 minutes, were killed for their ivory in a recent three year period, the agency said its new rule aims to help federal agents intercept black market shipments and catch traffickers.
Traffickers have exploited previous laws due to the difficulty of distinguishing illegal ivory from legal ivory once it hits the market, the agency said. With certain very limited exceptions, the new rule will prohibit domestic commerce in ivory from African elephants. The exceptions encompass antiques and uses of small amounts of ivory, less than 200 grams, in musical instruments, furniture and firearms.
"Since we proposed this rule in 2015, we received more than 1.3 million comments from the public, demonstrating that Americans care deeply about elephants and overwhelmingly support African elephant conservation," FWS Director Dan Ashe said. "Our actions close a major avenue to wildlife traffickers by removing the cover that legal ivory trade provides to the illegal trade. We listened carefully to the legitimate concerns raised by various stakeholder groups and, as a result, are allowing commonsense, narrow exceptions for musicians, musical instrument makers and dealers, gun owners and others to trade items that have minimal amounts of ivory and satisfy other conditions. These items are not drivers of elephant poaching and do not provide cover for traffickers."
The new rule follows on an announcement in March that the Service is reviewing both the status of the elephants under the Endangered Species Act and a possible taxonomic reclassification from a single species into separate subspecies in response to two petitions, one from the International Fund for Animal Welfare, Humane Society International, Humane Society of the U.S. and the Fund for Animal Welfare, and another from the Center for Biological Diversity (CBD), a conservation organization that is a frequent petitioner and litigant on behalf of imperiled species. The CBD petition asked the agency to not only uplist the elephants from threatened to endangered status, but presented scientific information indicating the African elephant should be reclassified into forest elephants and savannah elephants as distinct subspecies.
"We're excited the Obama administration has taken this important step to reduce the domestic trade in ivory," Sarah Uhlemann, CBD's international program director, said. "The United States has one of the largest markets for ivory in the world and reducing demand here will go a long way toward saving elephants in Africa."
The new rule, to be published on June 6, is also the latest action implementing the President's 2013 Executive Order to combat wildlife trafficking, and his National Strategy for Combating Wildlife Trafficking (pdf), issued in 2014. "Wildlife trafficking reduces the economic, social and environmental benefits of wildlife while generating billions of dollars in illicit revenues each year, contributing to the illegal economy, fueling instability and undermining security. It is in the national interest of the United States to combat wildlife trafficking and ensure we are not contributing to the growing global demand for elephant ivory," the executive order stated.
Because international cooperation is crucial to reigning in illegal wildlife trade, the U.S. plans to put forward these efforts at the upcoming Conference of Parties for the Convention on International Trade in Endangered Species of Wild Fauna and Flora (CITES) in September. Mr. Obama's recent visit to Vietnam also focused on this topic, and the State Department just announced a Memorandum of Understanding with India to combat wildlife trafficking.
"Ivory looks best on its original owners. Killing elephants and hacking off their tusks enriches terrorists, robs Africa of one of its great revenue-generators, and denies future generations the opportunity to see these iconic creatures. This is the right policy on so many levels," Wayne Pacelle, President and CEO of the Humane Society of the United States said.
The final rule is effective July 6.
To Learn More:
Endangered and Threatened Wildlife and Plants; Revision of the Section 4(d) Rule for the African Elephant (Department of the Interior, Fish and Wildlife Service) (pdf)
U.S. Hasn't Been Able to Stop Animal Smuggling Trade (by Elizabeth Warmerdam, Courthouse News Service)
NRA and Musicians Share Concern over Ban on Sales of Ivory (by Noel Brinkerhoff, AllGov)
U.S. Prepares to Destroy 6 Tons of Illegal Ivory (by Noel Brinkerhoff, AllGov)