Twitter Handles Information Requests from 58 National Governments, but 56% are from U.S.
Thursday, February 12, 2015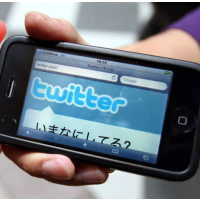 (photo: Koji Sasahara, AP)
Twitter's latest transparency report, created to show users how many governments are trying to gain access to account information, revealed that the majority of such inquiries came from the U.S. government.
A total of 58 national governments asked Twitter to turn over records. The U.S., however, accounted for 56% of such requests (1,622 out of 2,871).
Americans make up about 22% of all Twitter users, or 63 million out of 284 worldwide
The new report, which covered requests that came in from July to December of last year, showed governments in general increased their requests by 40% compared to their previous report.
"Providing this insight is simply the right thing to do, especially in an age of increasing concerns about government surveillance," Jeremy Kessel, Twitter's senior manager of global legal policy, told The New York Times.
After the U.S., the government filing the most requests was Turkey, with 356, followed by Japan with 288. Twitter, however, did not comply with any of Turkey's requests for user data.
The Times' Mike Isaac reported that Turkey "has often clashed with the microblogging company. In 2014, anonymous Twitter users posted leaked recordings to Twitter that implicated Recep Tayyip Erdogan, the country's president, in sweeping corruption allegations just weeks before local elections were to be held. Mr. Erdogan was able to block the service throughout Turkey for a time, before the nationwide ban was deemed unconstitutional."
Four countries have made their first-time requests of Twitter since last July: Belize, El Salvador, Kenya, and Russia.
-Noel Brinkerhoff
To Learn More:
Latest Report: Information Requests (government) (Twitter)
Twitter Reports a Surge in Government Data Requests (by Mike Isaac, New York Times)
As FBI Spying Program Goes on Trial, Twitter Sues U.S. Government over Surveillance Data Disclosure (by Noel Brinkerhoff and Steve Straehley, AllGov)
List of Words Dept. of Homeland Security Tracks on Facebook and Twitter(by Noel Brinkerhoff and David Wallechinsky, AllGov)