Trump Proceeds with Development of Luxury Resorts Tied to Powerful Indonesian Political Figures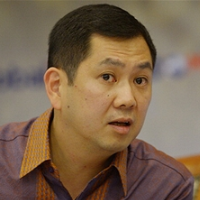 Hary Tanoesoedibjo (photo: Adek Berry, Getty Images)
By Richard C. Paddock and Eric Lipton, New York Times
JAKARTA, Indonesia —One resort, planned as the largest in Bali, will overlook a spectacular Hindu temple. The other, in the verdant hills of West Java, will adjoin a theme park. The properties will be so luxurious, the Trump Organization says, that even an impressive five-star rating will not do them justice.
Even as President-elect Donald Trump promises to end foreign business deals that could pose conflicts of interest, his company is moving ahead with two Indonesian projects that illustrate how tricky that pledge might be.
None of the construction work to build or renovate structures at the Indonesian resorts has begun, but Trump has forged relationships with powerful political figures in Indonesia. That tangle of relationships includes an Indonesian business partner who aspires to high office; a powerful politician accused of trying to extort billions of dollars from a U.S. mining company; and Trump's new adviser on regulatory issues, Carl C. Icahn, a top shareholder in the mining company.
Trump's local partner on the resorts, Hary Tanoesoedibjo, is a billionaire media mogul. He ran for vice president of Indonesia in 2014 and is organizing a political party for another possible run at national office in 2019. If Hary or his party wins a major role in government, the potential conflicts could escalate significantly.
"You could have two world leaders that are business partners," said Richard W. Painter, who served as a White House ethics lawyer during the George W. Bush administration. "It makes it almost impossible to conduct diplomacy in an evenhanded manner. That does not work."
Through the partnership with Hary, Trump has gained access to some of Indonesia's top political figures, including Setya Novanto, speaker of the House of Representatives, who was temporarily forced to surrender his leadership post because of corruption allegations in 2015.
Trump created the corporations that manage these projects in late June 2015, just a week after he declared his intention to run for president.
On Wednesday, Trump accused the news media of exaggerating any potential conflicts presented by his business holdings.
"It's not a big deal; you people are making it a big deal, the business," Trump said. "They all knew I had big business all over the place."
To Learn More:
The Clause in the U.S. Constitution that Trump as President Would Violate with His Foreign Businesses (by Richard Tofel, ProPublica)
Constitutional Violations of Trump's Foreign Business Dealings May Never Be Known Due to Limited Disclosure Rules (by Derek Kravitz, ProPublica)
5 Trump Business Ties that Pose Conflicts for the President-Elect (by Bernard Condon, Associated Press)
With No Ethics Rules Binding U.S. Presidents, Trump Business Ventures Put Conflicts of Interest at High Risk (by Bernard Condon, Associated Press)
ACLU Gears Up to Fight in Court Anticipated "Unconstitutional Acts" by a President Trump (by Bianca Bruno, Courthouse News Service)