Threats to Food Safety, Open Internet, Environment Seen in Long-Awaited TPP Trade Deal Text
Thursday, November 12, 2015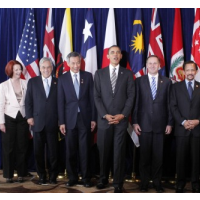 Trans-Pacific Partnership meeting of world leaders (AP photo)
If approved by the United States and its trading partners, the TransPacific Partnership (TPP) trade agreement could impose all kinds of ways for corporations to benefit at the expense of the environment, food safety and Internet freedom.
"Now that we've seen the full text, it turns out the job-killing TPP is worse than anything we could've imagined," Charles Chamberlain, executive director of Democracy for America, said, according to Common Dreams. "This agreement would push down wages, flood our nation with unsafe imported food, raise the price of life-saving medicine, all the while trading with countries where gays and single mothers can be stoned to death."
Environmental organizations such as 350.org and the Sierra Club have pointed out that the voluminous TPP does not once mention climate change. It does, however, give oil and gas companies the power to sue local governments that impose moratoriums on fracking. It also allows them to overrule communities' attempts to restrict coal mining. "In short, these rules undermine countries' ability to do what scientists say is the single most important thing we can do to combat the climate crisis: keep fossil fuels in the ground," 350 policy director Jason Kowalski said.
TPP also would restrict food inspections at international borders, and undermine efforts to label GMO foods, Food & Water Watch says. The deal would also allow food into the United States from other countries provided they have "equivalent" food safety standards. That would mean that antibiotic- and drug-laden foods from Vietnam and other countries would be allowed to be sold in U.S. stores, according to the Center for Food Safety.
Advocates for an open Internet have criticized the agreement as well. A section on Internet service providers requires them to play "copyright cops" and help enforce copyright takedown requests. But it does not mandate countries to have a system for "counter-notices, so a U.S company could order a website to be taken down in another country, and there would be no way for the person running that website to refute their claims if, say, it was a political criticism website using copyrighted content in a manner consistent with fair use," according to Common Dreams.
-Noel Brinkerhoff
To Learn More:
'Worse Than We Thought': TPP A Total Corporate Power Grab Nightmare (by Deirdre Fulton, Common Dreams)
Secret TPP Text Unveiled: It's Worse Than We Thought (Public Citizen) (pdf)
Top 5 Reasons Eaters Should be worried about Obama's New Trade Deal (Center for Food Safety)
The TPP Would Increase Risks to Our Air, Water, and Climate (Sierra Club) (pdf)
TPP Critics Say U.S. Shift on Drug Pricing Revealed in Leaked Trade Document will Help Big Pharma at Consumers' Expense (by Noel Brinkerhoff, AllGov)
Secret Trade Pact would Allow Foreign Corporations to Sue U.S. for Damaging Investment "Expectations" (by Noel Brinkerhoff and Danny Biederman, AllGov)
Obama's Secret International Trade Treaty Caving on Environmental Protections (by Noel Brinkerhoff, AllGov)