TPP Critics Say U.S. Shift on Drug Pricing Revealed in Leaked Trade Document will Help Big Pharma at Consumers' Expense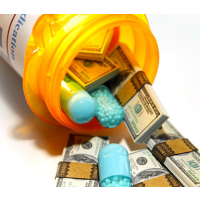 (photo: Farrall/Getty Images)
Critics of the Trans-Pacific Partnership (TPP) have raised yet another concern with the far-reaching agreement being negotiated among the United States and 11 other nations: drug prices.
The TPP talks include the issue of whether the participating governments should open the process by which reimbursement rates for drugs and medical devices are established. Opening it up would benefit Big Pharma in the U.S. because many other governments curtail their reimbursement rates. Thus, drug makers have lobbied the Obama administration to include this issue in the TPP.
But generic drug manufacturers as well as public health professionals oppose this TPP provision because, they say, it will result in higher drug prices and make it harder for patients to receive the treatments they need.
"It was very clear to everyone except the U.S. that the initial proposal wasn't about transparency. It was about getting market access for the pharmaceutical industry by giving them greater access to and influence over decision-making processes around pricing and reimbursement," Deborah Gleeson, a lecturer at the School of Psychology and Public Health at La Trobe University in Australia, told The New York Times. And even though the section, known as the transparency annex, has been toned down, she said, "I think it's a shame that the annex is still being considered at all for the TPP."
Judit Rius Sanjuan, a lawyer at Doctors Without Borders, says the free trade deal "will increase the cost of medicines worldwide, starting with the 12 countries that are negotiating the Trans-Pacific Partnership."
The pharmaceutical industry has been lobbying heavily since 2009 to have language favorable to drug companies in the TPP, according to the Sunlight Foundation. It would seem that those efforts have paid off.
-Noel Brinkerhoff
To Learn More:
U.S. Shifts Stance on Drug Pricing in Pacific Trade Pact Talks, Document Reveals (by Jonathan Weisman, New York Times)
'Profits over Public Health': Secret TPP Healthcare Annex Published by WikiLeaks (RT)
TPP Transparency for Healthcare Annex (WikiLeaks)
How Big Pharma (and Others) Began Lobbying on the Trans-Pacific Partnership before You Ever Heard of It (by Lee Drutman, Sunlight Foundation)
WikiLeaks Calls for $100,000 Reward for Unpublished 26 Chapters of Trans-Pacific Partnership Agreement (by Noel Brinkerhoff and Steve Straehley, AllGov)
Fast Track Trade Bill: When Obama and Republicans Agree…Watch Out (by Noel Brinkerhoff and Danny Biederman, AllGov)