Obama's Secret International Trade Treaty Caving on Environmental Protections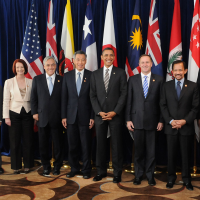 TPP leaders at 2010 meeting
A major free trade agreement being negotiated between the United States and 11 other Pacific Rim nations could cripple environmental protections, despite the Obama administration's promise to include such provisions in the treaty.
Talks for establishing the Trans-Pacific Partnership (TPP) have been conducted in secrecy for three years, leaving observers wondering what the agreement would ultimately include.
Environmentalists, who have been particularly nervous over the closed-door negotiations, had their fears confirmed by WikiLeaks, which obtained draft documents from TPP meetings.
The documents covering the environmental chapter of the TPP reveal disputes between the U.S. and other parties that could eliminate important international environmental safeguards. They also indicate that the Obama administration may cave on issues like reducing pollution and logging and banning certain fishing practices.
Ilana Solomon, director of the Sierra Club's Responsible Trade Program, told The New York Times that the draft "rolls back key standards set by Congress to ensure that the environment chapters are legally enforceable, in the same way the commercial parts of free-trade agreements are."
WikiLeaks was even harsher in its criticism, dismissing the environmental chapter as nothing more than "a public relations exercise" that lacks "mandated clauses or meaningful enforcement measures."
"Today's WikiLeaks release shows that the public sweetener in the TPP is just media sugar water," Wikileaks' publisher Julian Assange said in a statement. "The fabled TPP environmental chapter turns out to be a toothless public relations exercise with no enforcement mechanism."
The administration's point-man at the negotiations, U.S. trade representative, Michael Froman, admitted that getting environmental protections was "an uphill battle, but we're pushing hard" to get them included, he told the Times.
The leaked materials indicate the U.S. has demanded stronger environmental rules, including calls for sanctions against participating countries that pollute. American negotiators also want TPP participants to abide by existing global environmental treaties.
But those positions are opposed by most or all of the other Pacific Rim nations working on the deal, including Australia, Canada, Mexico, Chile, Japan, Malaysia, and Vietnam, the Times reported.
In May 2007, President George W. Bush and Senate Democrats agreed to include environmental provisions in all future free-trade deals. This has been done in bilateral agreements, but the TPP has proven more complicated.
-Noel Brinkerhoff
To Learn More:
Administration Is Seen as Retreating on Environment in Talks on Pacific Trade (by Coral Davenport, New York Times)
Analysis of Leaked Environment Chapter Consolidated Text (Natural Resources Defense Council, Sierra Club and World Wildlife Fund) (pdf)
Leaked TPP 'Environment Chapter' Shows 'Corporate Agenda Wins' (by Jon Queally, Common Dreams)
TPPA Environment Chapter & Chair's Commentary Posted by WikiLeaks (WikiLeaks)
Obama Administration Accused of Bowing to Tobacco Industry in Secret Trade Talks (by Matt Bewig, AllGov)
Proposed Obama Trade Agreement would Ban Buy America Laws (by Noel Brinkerhoff, AllGov)