Obama Administration Agrees to Get Rid of Landmines…Except in Korea
Thursday, September 25, 2014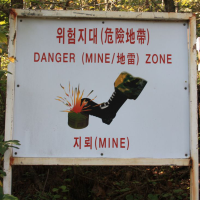 Landmine sign in Jangsan, South Korea (photo: Dylan Doycle, Millennial Abroad)
The United States has finally agreed with most nations of the world that landmines need to go. But the new policy has a loophole in it the size of the Korean peninsula.
In announcing qualified support for the Ottawa Convention, which bans anti-personnel mines, the Obama administration said it still supports the use of the weapons in South Korea to protect against North Korean aggression.
The United States has promised to never again make landmines or encourage other nations (except for South Korea) to use them. There are about 3 million landmines in the U.S. inventory, the production of which stopped in the late 1990s. State Department spokeswoman Jen Psaki said Tuesday that all except those needed to protect South Korea would be destroyed, according to The Washington Post.
One hundred and sixty-two countries have signed the treaty to ban the devices that are responsible for 15,000 to 20,000 deaths each year, according to the United Nations. More than 60 nations, including Afghanistan, Pakistan, Colombia, and Myanmar (Burma), continue to deal with the mines left over from current and past conflicts.
-Noel Brinkerhoff
To Learn More:
The United States Pledges To Give Up Landmines, Just Not Everywhere (by Joaquim Moreira Salles, Think Progress)
Why the Korean Peninsula Keeps Land Mines (by Jeyup Kwaak, Wall Street Journal)
'Unique' Conflict with North Korea Keeps U.S. Land Mines along Border (by Brian Murphy, Washington Post)
Two-Thirds of Senate Ready to Ban Land Mines; But Not Obama (by Noel Brinkerhoff, AllGov)