Lawsuit Seeks Release of CIA Documents on U.S. Soldiers' Exposure to Iraqi Chemical Weapons Made with U.S. Help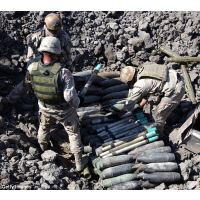 Unexploded ordnance found by U.S. servicement in Iraq, 2005 (photo: Getty Images)
By Adam Klasfeld, Courthouse News Service
MANHATTAN (CN) — Now that the federal government has acknowledged that Western-built chemical weapons sickened U.S. soldiers in Iraq, The New York Times says the CIA can no longer deny access to records about it.
Times reporters C.J. Chivers and John Ismay uncovered a hidden chapter of Iraq War history in late 2014.
"Their groundbreaking stories uncovered how the U.S. government had kept secret for more than a decade that hundreds of military service members had been potentially exposed to chemical warfare agents as they encountered and in many cases handled chemical munitions once possessed by the Iraqi military," Times attorney David McCraw wrote in the federal FOIA complaint.
The U.S. military went into Iraq looking for evidence of weapons of mass destruction, but found only an aging stockpile of chemical armaments that Western powers helped provide to Saddam Hussein's regime in the 1980s, the Times reported.
Saddam used the weapons against Iranian troops and Iraqi civilians in the 1980s, triggering a U.N. investigation to destroy the remnants of Iraq's chemical warfare program.
President George W. Bush premised the Iraq War on the grounds that Saddam never stopped producing these weapons, but the roughly 5,000 chemical weapons the troops found had been built decades ago in collaboration with Egypt, Italy and the United States.
In a series of articles, multimedia features and a documentary, the Times revealed that the Pentagon acknowledged that more than 600 U.S. soldiers had been exposed to sarin or a sulfur mustard agent in Iraq.
The Centers for Disease Control and Prevention links the chemicals to burns, blisters, infertility, eye damage, scarring of the respiratory system, and increased risk of cancer.
The military denied Purple Heart medals and medical care to soldiers who claimed to have been wounded, and Islamic State militants later seized control of much of the stockpile areas, the Times reported.
One of the eight articles the Times published in the series delved into Operation Avarice, a CIA program to purchase "nerve-agent rockets from a secretive Iraqi seller."
In its Tuesday lawsuit, the Times says the CIA rebuffed Freedom of Information Act requests about the program through a so-called Glomar response, refusing to confirm or deny that it possessed at least three documents related to it. The Times filed a similar lawsuit Wednesday, this time naming the U.S. Army as a defendant.
Those documents are "Iraq: Recovered CW Munitions Probably Remnants of Pre-1991 CW Program," from August 2007; "Iraq: Recovered Pre-1991 Mustard Rounds May Pose Localized Threat," from December 2006; and "Iraq: US Forces Experienced First Sulfur-Mustard Related Injuries," from March 2007.
The Times says the CIA's denial is "no longer sustainable" because the Army acknowledged and apologized for this early last year.
"The CIA's failure to acknowledge the existence of relevant documents and to provide any responsive documents violates FOIA," the complaint states.
The CIA declined comment.
The Times wants to see the record.
To Learn More:
Army Apologizes to Iraq Service Members and Promises to Screen more than 1,500 for Possible Chemical Weapons Exposure (by Noel Brinkerhoff, AllGov)
Pentagon Admits Failing to Treat 600 U.S. Service Members Exposed to Chemical Weapons during Iraq Occupation (by Noel Brinkerhoff, AllGov)
U.S. Kept Quiet about '80s-Era Chemical Weapons it Helped Provide to Iraq ... Especially When American Soldiers Were Later Hurt by Them (by Steve Straehley and Danny Biederman, AllGov)