Army Apologizes to Iraq Service Members and Promises to Screen more than 1,500 for Possible Chemical Weapons Exposure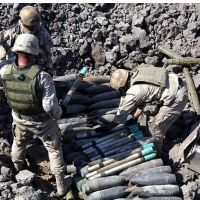 Unexploded ordnance found by U.S. servicemen in Iraq, 2005 (photo: Getty Images)
A senior U.S. Army official has officially apologized to soldiers who served in Iraq and were exposed to chemical weapons. Many of the troops never received proper treatment for their ailments related to the exposure, but are expected to finally get the care they need.
Army Under Secretary Brad Carson said the military would establish new opportunities for service personnel to receive medical support for lingering health effects caused by chemical exposure. The military failed to follow its own policies for caring for troops exposed to Iraqi chemical munitions, he conceded.
"To me, the scandal is that we had protocols in place and the medical community knew what they were, and yet we failed in some cases to implement this across the theater," Carson said. "That was a mistake, and I apologize for that. I apologize for past actions and am going to fix it going forward."
Carson has been heading up a Pentagon investigation into chemical weapons exposure ever since The New York Times revealed the U.S. military had secretly recovered chemical munitions in Iraq, but had not publicly acknowledged the dangers posed to soldiers involved in the effort.
Many of those chemical weapons had been provided to Iraqi leader Saddam Hussein in the 1980s, utilizing munitions designed by the U.S. and filled with chemical agents in Iraq by Western companies. Discarded remains were scattered around the country and stumbled upon by American troops during the post-9/11 U.S. invasion and occupation of Iraq. In some instances, chemical exposures occurred during insurgents' use of those blister or nerve agents inside roadside bombs.
Carson said the military plans to screen at least 1,500 active-duty troops or veterans, of which it's believed that only "a small fraction" had been exposed to the chemicals, according to C.J. Chivers at the Times.
-Noel Brinkerhoff
To Learn More:
Veterans Hurt by Chemical Weapons in Iraq Get Apology (by C.J. Chivers, New York Times)
The Secret Casualties of Iraq's Abandoned Chemical Weapons (by C.J. Chivers, New York Times)
Pentagon Admits Failing to Treat 600 U.S. Service Members Exposed to Chemical Weapons during Iraq Occupation (by Noel Brinkerhoff, AllGov)
U.S. Kept Quiet about '80s-Era Chemical Weapons it Helped Provide to Iraq ... Especially When American Soldiers Were Later Hurt by Them (by Steve Straehley and Danny Biederman, AllGov)