Lawsuit against U.S. Health Agency Alleges Religious Charities it Funds Deny Health Options to Raped Refugee Girls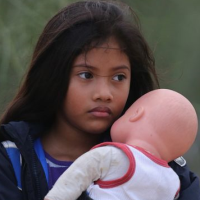 8-year-old refugee traveled from El Salvador to U.S. (photo: John Moore, Getty Images)
By Nicholas Iovino, Courthouse News Service
SAN FRANCISCO (CN) — Religious charities get millions of dollars of federal money to detain young, unaccompanied immigrants but deny them health services even if they have been raped, and punish them for asking for reproductive health care, the ACLU claims in court.
The ACLU of Northern California on Friday sued U.S. Health and Human Services Secretary Sylvia Mathews Burwell, who oversees the co-defendant Office of Refugee Resettlement, or ORR.
The ORR awards grants to groups such as the U.S. Conference of Catholic Bishops, which received nearly $10 million tax money to assist immigrants in 2014.
The Conference of Catholic Bishops issues sub-grants only to agencies that prohibit providing, encouraging, referring or in any way helping people gain access to contraceptives or abortion, the ACLU says.
"Defendants' decision to authorize this religiously motivated denial of services has extraordinary consequences for the vulnerable unaccompanied immigrant minor population," the 19-page complaint (pdf) states.
"For example, one young woman — who was hospitalized for suicidal ideation after she became pregnant as the result of rape by one of her 'guides' to the United States — was kicked out of her Catholic-affiliated shelter because she asked for an abortion. As a result, she was transferred to another shelter, away from the social workers and other shelter support staff who constituted her only support system in this country. Another young woman, who had also become pregnant as a result of rape on her journey to the United States, was denied placement at a shelter near her family in Florida because the two available shelters both had religious objections to caring for teens who seek abortions."
A spokesman for the U.S. Conference of Catholic Bishops did not return a phone call and email seeking comment Monday afternoon.
Mark Weber with the U.S. Department of Health and Human Services declined to comment.
The lawsuit tells the stories of four young pregnant women, two of whom were raped on their journey to the United States. All four were unable to get emergency contraception or abortion through their caretakers/detainers.
In most cases, the young women had to be transferred to different states, often away from the few friends, family or people with whom they had developed relationships, to get the care they sought.
Two federal laws and a 1997 settlement agreement require the ORR to provide unaccompanied immigrant minors access to emergency contraception and abortion, the ACLU says.
The Prison Rape Elimination Act of 2003 (pdf) and the Violence Against Women Reauthorization Act of 2013 led the ORR to issue a regulation that requires the groups it funds to "provide unaccompanied immigrant minors who are victims of sexual assault with access to reproductive healthcare," according to the complaint.
A 1997 settlement reached after 12 years of litigation in Flores v. Reno also mandates that the federal government provide or arrange for unaccompanied immigrant minors to get appropriate medical care, including "family planning services and emergency health care services."
Nonetheless, the U.S. Conference of Catholic Bishops has publicly stated that it cannot "help ensure access" to medical care that is contrary to its religious beliefs.
Because of those objections, its federally funded agencies will not notify the government if a minor in its care wants an abortion, even if the girl was raped while in federal custody, according to the ACLU.
Congress funded the ORR's Refugee and Entrant Assistance Programs (pdf) with $1.6 billion in fiscal year 2016. With that funding, the U.S. Department of Health and Human Services awarded 56 grants to more than 30 care providers, including the U.S. Conference of Catholic Bishops.
Since the Department of Health and Human Services took over caring for unaccompanied immigrant minors in 2002, the number of young, solo immigrants in the program has risen from 13,625 children in fiscal year 2012 to 57,496 in fiscal year 2014. The number dropped to 33,726 referrals last fiscal year, according to ORR data.
The ACLU says the government's continued funding of organizations that deny immigrant minors access to contraceptives and abortion violates the separation of church and state.
Giving tax dollars to those groups "coerces" the ACLU and its members into "supporting and subsidizing a particular set of religious beliefs," the lawsuit states.
"ORR has authorized USCCB and other grantees to impose religiously based restrictions on young women's access to reproductive health care — care that these young women are entitled to receive by law," the complaint states. "Defendants have therefore violated the Establishment Clause by failing to remain neutral with respect to religion, by subsidizing grantees' religious beliefs to the detriment of unaccompanied immigrant minors, and by underwriting religious restrictions on vital government-funded services."
The ACLU seeks declaratory judgment and a permanent injunction barring federal funding for organizations that refuse to provide contraceptives and abortion services to unaccompanied immigrant minors.
It is represented by staff attorney Elizabeth O. Gill in San Francisco, supported by ACLU attorneys in New York, Los Angeles and Washington, D.C.
To Learn More:
ACLU v. Burwell, et al (U.S. District Court, Northern District of California, San Francisco) (pdf)
Central American Refugees' Lives Put at Risk by U.S.-Financed Program for their Interception and Deportation by Mexico (by Nicholas Kristof, New York Times)
Lawsuit Accuses Immigration Officials of Denying Applications of Abused Children (by Ryan Kocian, Courthouse News Service)
U.S. Health Agency Accused of Releasing Lone Migrant Children to Traffickers (by Tim Ryan, Courthouse News Service)
There's Money to be Made on Flood of Child Immigrants (by Steve Straehley, AllGov)
Majority of Americans Support Treatment of Migrant Children as Refugees, Not Illegal Immigrants (by Noel Brinkerhoff, AllGov)
The Anti-Trafficking Law that Backfired into the Current Flood of Child Immigrants (by Noel Brinkerhoff, AllGov)